Everyone kept telling me 'NO'!
I had to find clients, my business plan, was still possible,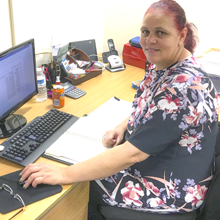 Like many other people, Julie had thoughts of starting her own business. Yet rather than simply 'wanting' a business, she decided to take the steps to achieve that goal even when others doubted her. Here is her story:
Wanting a business and having one are two very different things. I know this because every time I tried to start mine, I never succeeded. But I never stopped believing in my dream. I paid to have my business plan drawn up, but everyone around me kept telling me that I wouldn't be able to establish my business.
It was a horrible feeling when I was constantly rejected, but my belief in my idea kept me going. I didn't give up; I kept running towards my dream. I wasn't going to take 'no' for an answer. I was so determined to achieve the outcome because of the faith that I had.
The Monday Independence Project meetings and the other programmes that I took part in every week at the HelpCentre gave me an opportunity to realise my dream. I was motivated by the testimonies of others who had made their dreams come true. I knew mine was still possible, even though I had conflicting thoughts in my mind.
There was a tug of war in Julie's mind due to the comments that her close relatives made. Nonetheless, she didn't allow them to put a stop to her progress.
I kept a positive mindset. A month later, I started building my business. I managed to complete my registration. Then I had to find clients.
Today my business is overflowing with clients, and the carers working for me are so busy that I can even afford to refuse new clients. Taking part in the Monday meetings paid off. My life has completely turned around, and the same can happen to you!
 Julie Field