I rebuilt my life around faith
Birmingham University, Business Management, GCSEs, God, I felt empty, secure a job, South Africa, Stoke City F.C., the HelpCentre,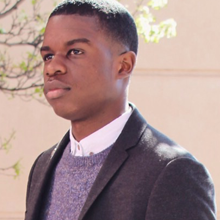 Everything started going pear-shaped when I lost my mother.
I started drinking at the age of 12, and I started involving myself with females. The cousins I lived with back in South Africa also had a huge influence on my actions.
I would hate going home because I felt empty. Eventually, I left the country and moved in with my father and stepmother in England. But that's when my situation became worse. I ran into so many problems with my stepmother.
Back then, I was the type of person to run away from all my problems. When I couldn't go back to South Africa, I decided to move into my auntie's house in Birmingham. It was in this city that I was introduced to the VYG. But it was the female members of the group and the football that attracted me.
I attended a Wednesday service but I didn't make it a priority to keep attending Instead, I tried to use my faith to gain a football scholarship at Stoke City. However, when things didn't go to plan, I decided to stop attending the HelpCentre completely.
A couple of years later, when I was 18, I returned and decided to take the meetings seriously. During this time, I participated in a spiritual event, which really strengthened my faith. The following year, I went to Angola and I was a different man; I was able to resist the temptation that I felt around women.
When I came back to England I made it a goal to go university, although I had very few GCSEs. Nonetheless, I relied on my faith and called Birmingham University to enrol on a Business Management course. With the few qualifications I had, I was able to get a positive reference from my college teacher; two hours later, I had a place on the course.
My father then encouraged me to look for a job. I told him that I would find work because "the power of God is so great". My faith gave me strength to continue and three-days later I was able to secure a job.
Today, my financial life is comfortable and I was also able to forgive my step-mum for our differences. I believe all this was possible because I took God seriously at a young age.
Simone Dias Neto