The UCKG celebrated 14000 marriages within five continents
a wonderful relationship, Love Therapy seminars, the real value of family,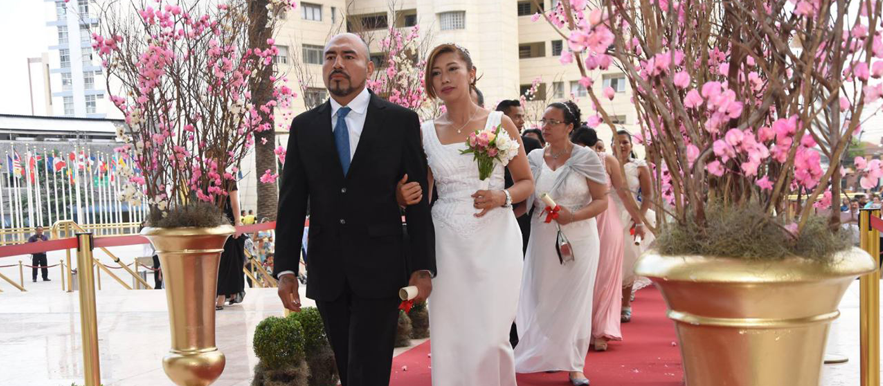 Couples walk down the aisle for the Celebration of Marriages
On Thursday, 12 October, the UCKG celebrated 13,849 marriages in the headquarters of all the Brazilian states, the Federal District and, in 49 countries within five continents. The ceremonies took place simultaneously, in each location.
In Brazil alone, the Celebration of Marriages united 22,722 couples. Abroad, more than 4,976 couples exchanged wedding rings.
It was the first time that the event took place in other nations at the same time, on the same day. Only six countries (Cameroon, Côte d'Ivoire, Equatorial Guinea, Nigeria, Zambia and New Zealand) will hold the ceremony on different days throughout October and November.
In Brazil, the first celebration took place in June 2014 and, up until today, 23,934 couples have married at events in the UCKG.
The couples who celebrated their marriages take part in the Love Therapy seminars, where they receive advice on how to succeed in their love lives.
At the Temple of Solomon in São Paulo alone, 256 couples attended this event, 111% higher than in March this year, where 121 couples got married.
Overcoming the past and being united
It was at the Temple of Solomon that José Marques Correia, 47, and Telma da Silva Costa, 49, celebrated their union. The couple faced several problems: they separated eight times and, the last time, José spent almost a year living on the street.
Overwhelmed, he says that his wife's love was fundamental of his transformation, which is what made him return to his family.
"I started taking drugs and drinking a lot. I was often aggressive towards my wife and children. In 2007, I ended up living on the street, until a pastor helped me. He gave me new clothes, got in touch with my family, and once I began to attend the UCKG and fully recovered, I decided to go home."
The couple started attending the Love Therapy seminars and decided that they were ready to live together forever. "It was through the Love Therapy that I learned the real value of family," José said.
The Celebration of Marriages at the Temple of Solomon was conducted by Renato Cardoso, who is also the presenter of The Love School show, from Record TV.
Happily married
According to IBGE (Brazilian Institute of Geography and Statistics), 1.1 million Brazilians marry annually. The survey also shows that the average age that men get married increased from 27 to 30 years old, an from 23 to 27 for women, over a period of 40 years.
Renato and Cristiane Cardoso explain in their book "Bulletproof Marriage" that giving attention and care are essential attitudes to maintain a happy relationship.
"You sacrifice when you swallow your pride, give in and admit that the other is right. You sacrifice when your wife likes to go out and you go out with her to please her, or when one of you does not like to go out and the other stays at home without complaining. Sacrifice your emotions, sacrifice your temper, sacrifice your friendships. Begin to sacrifice for your marriage and you will reap a wonderful relationship, full of peace, understanding, companionship, and faithfulness," the couple said.
Countries where the Celebration of Marriages took place this Thursday:
Costa Rica
U.S
Haiti
Nicaragua
Guatemala
Dominican Republic
Saint Lucia
El Salvador
Honduras
Mexico
Panama
Argentina
Bolivia
Chile
Colombia
Ecuador
Guyana
Paraguay
Peru
Trinidad and Tobago
Uruguay
Venezuela
Germany
France
Netherlands
England
Ireland
Portugal
South Africa
Angola
Benin
Botswana
Burundi
Gabon
Gambia
Guinea Bissau
Lesotho
Madagascar
Mozambique
Namibia
Kenya
Sao Tome and Principe
Southern Sudan
Tanzania
Uganda
Zimbabwe
Philippines
Japan
Australia