Everyone loves a wedding
a special chance to see, good health and long life, steal the day,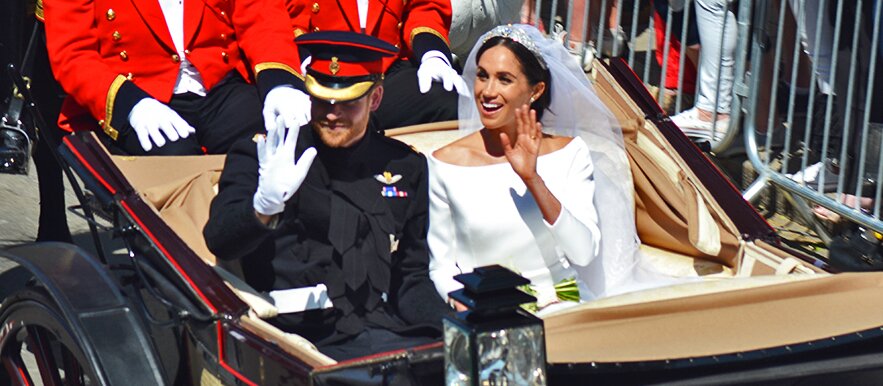 Weddings are a celebration of love, happiness and hope for the future. A time for all concerned to put aside their cares and to celebrate. Never was this more true than in the case of this year's royal wedding of Prince Harry and Meghan Markle, which took place on 19 May in St George's Chapel, Windsor, and was absolutely lovely.
The happy couple shared their big day with the 600 or so guests invited to the service and a lunchtime reception in St George's Hall, hosted by the Queen. This was followed by a more intimate evening 'do' for 200, hosted by Prince Charles at nearby Frogmore House.
Over 2,600 members of the public were invited into the grounds of Windsor Castle to watch the arrivals of the bride and groom and their guests. Local school children, charity representatives and young people who have shown leadership skills within their communities all had a special chance to see the historic occasion unfold, and huge TV audiences warmed to the happy occasion in the UK, US and around the world.
As you might expect, Meghan Markle looked amazing in her lovely Givenchy dress, created by British designer Clare Waight Keller, and Prince Harry was as dashing as ever.
Both looked as wonderfully happy on their wedding day as every couple should, while ten little bridesmaids and pages did their best to steal the day.
As most people will be aware, the run up to the nuptials was not without its stresses and moments of drama, as happens when ordinary folk wed, though not in the same highly public way. Some old friends and family members on both sides who thought they might have been invited were not, according to media reports; others, like Meghan's mum, Doria Ragland, were magnificent.
All in all, the wedding of 2018 has been a microcosm of marriages the world over. It has provided a very welcome break from the serious stuff that's going on in the world today, and no doubt from the stresses and strains in our own lives. It set the summer off to a delightful start. We wish Prince Harry and Meghan Markle — the newly created Duke and Duchess of Sussex — every happiness, good health and long life.