Chrissy B has been awarded a Certificate of Recognition
employment and business, incredible inner strength, mental health and wellbeing, mental health issues,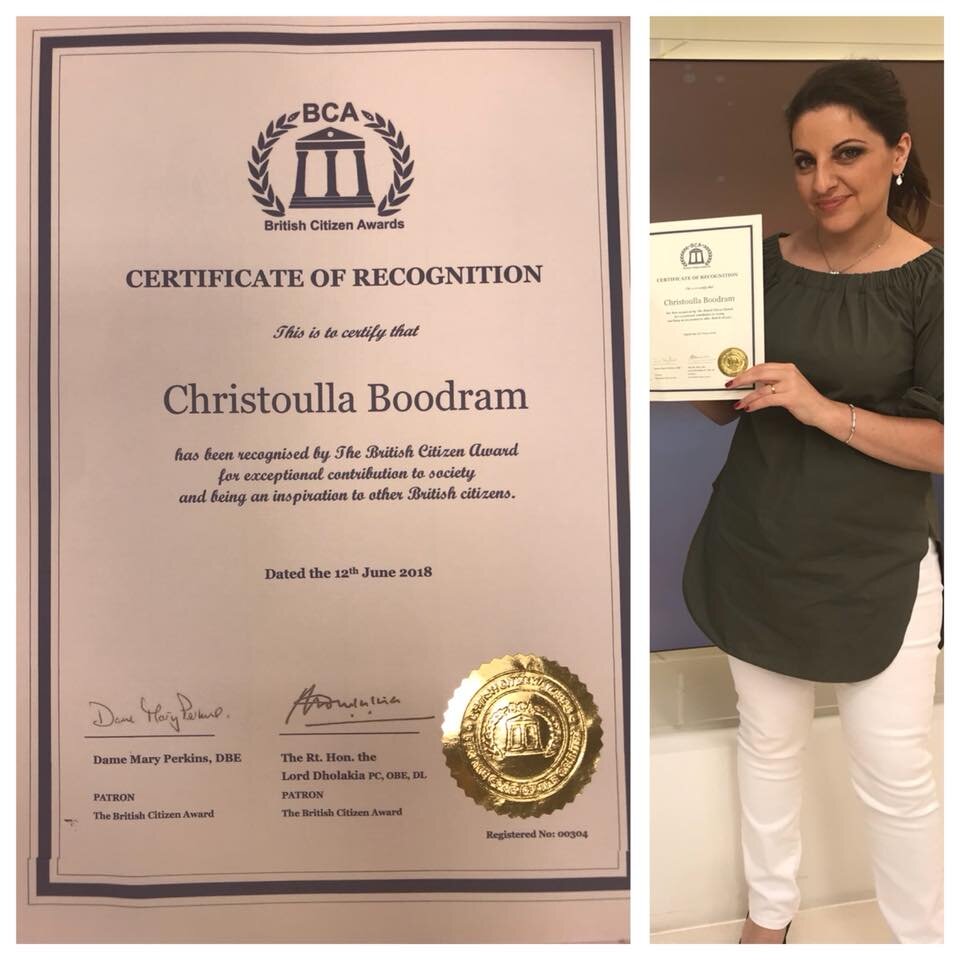 Christoulla Boodram, better known as Chrissy B, has been awarded a Certificate of Recognition in the British Citizen Awards.
The certificate states that Chrissy B has been recognised for 'her exceptional contribution to society and being an inspiration to other British citizens'.
On receiving this certificate, Chrissy said, 'I'm very happy that the mental health work I'm doing is spreading. This recognition means that the #MHDChallenge is making an impact and most importantly, helping people.'
On 21 June, Chrissy was one of the speakers at Hendon Secondary School's 2018 Mental Health Conference, held at Middlesex University.
During her speech, she discussed her own journey out of depression. The conference's theme was 'SOS – Stamp Out Stigma'. Having suffered with depression, panic attacks, OCD, anger issues, complexes and insecurities herself for seven years, Chrissy said that struggling with all that is bad enough without the stigma that sufferers often face.
Zoe Kattah, who leads the Brent 'Young People Thrive' Project, and who was in the audience, said, 'Chrissy B just makes you want to stand up and dance mental ill health away with the #MHDChallenge. She speaks very passionately about her own mental health in a way that makes it accessible to all ages – gets us to see it as part of our being human. Through the experiences of others and everyday imagery of fighting bullies to protect those we love, she inspires the audience to think about anxiety and depression for what they really are: BULLIES, attacking what is closest and dearest to us – our minds!'
In the near future, Chrissy B will be releasing a book about her story, which she says will 'also be a handbook that will give lots of tips and advice for people with depression'.
It wasn't until she joined the UCKG HelpCentre that Chrissy learned how to activate an incredible inner strength to fight against what she was experiencing and win.
'During my darkest moments, I didn't think about anything, I couldn't see a future for myself, I was in a low place.' Despite this, she said that although she didn't see a way out, she had hope. 'I was scared that there was no solution, but I had a glimmer of hope that something would help me. For me, the help I needed came when I found the UCKG, which provided me with spiritual help.'
Her need to help others stems from her not wanting people to go through what she went through. 'When I overcame depression, I didn't want people to feel what and how I felt. It makes me angry to think that people are facing situations they don't need to be going through.'
Her message to anyone facing mental health issues is that 'there is always a solution' and she urges everyone 'not to give up' because 'you can achieve happiness and doing things you never thought possible'.
This is the premise of The Chrissy B Show, which is the only programme on TV dedicated to mental health and wellbeing. It features real-life stories, tips and advice on everything from nutrition and exercise to employment and business. The show brings in psychologists to discuss the day's topics. The aim for Chrissy B is 'at the end of the show, to leave our viewers with something to think about, but most importantly leave them with practical tips they can put into practice immediately'.
In 2017, not only did Chrissy win the Global Woman Awards Best Cover Story, something she believes is a 'kick in the teeth' for depression, but she also created the #MHDChallenge to encourage people with mental health issues to fight back and to raise awareness.
The #MHD (Mental Health Dance) Challenge is the world's first dance challenge that supports the tackling of mental health. The dance is a way to talk about something as serious as mental health in a more fun and relaxed environment.
As with everything else Chrissy B does, the idea and aim behind the #MHDChallenge are to fight back against mental health issues and not to let them take over one's life. To read more about this great initiative, including how it came to be and how to take part, click here.