The UCKG helps to feed Leeds' homeless
soup kitchens in London, The soup kitchen,
Friday, 24 April 2020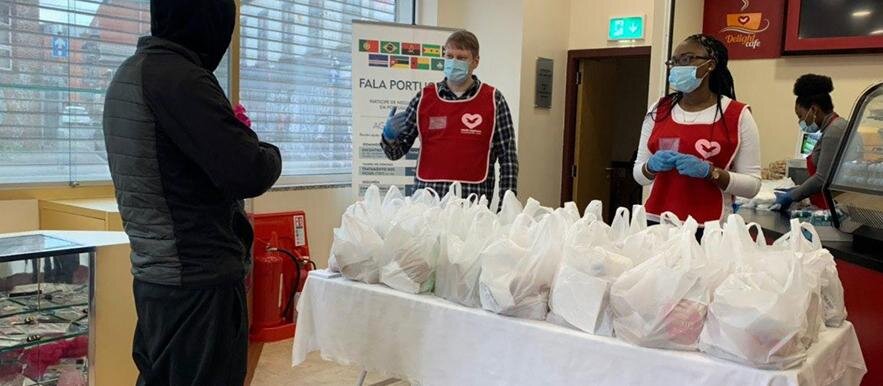 The UCKG held a pop up 'soup kitchen' in Leeds on Saturday 18 April, and provided food packs for 65 people in the city, who were either homeless or otherwise struggling to feed themselves in the face of the COVID-19 situation. All of the food and the PPE that was used was donated by members of the church.
The soup kitchen was located at the UCKG's HelpCentre premises at 12 Regent Street, LS2 7QA, and remained open for two hours from 11 am.
During that time 50 people came along, off the street, having heard about the soup kitchen by word of mouth or by being invited at the door. Strictly following the social distancing rules, they queued and entered the premises one at a time to receive a food pack containing a hot sandwich, juice, water, a pack of crisps, a small pack of biscuits and a croissant.
A further 15 bags of food were prepared and taken to city centre to give to those who could not walk to Regent Street to receive them.
"If you're wondering why there was no soup," said Pastor Marco, who is in charge at Leeds HelpCentre, "the answer is that we borrowed the name from our London branches, who are able to provide home-made soup as well as takeaway packs. But in fact the term is well recognised as meaning a place where free food is served to people who are homeless or destitute."
The UCKG HelpCentre launched its first soup kitchen at Catford in south London four years ago. As the lockdown is making it harder for homeless people to obtain free food, it has opened three more soup kitchens in London in recent weeks. The Leeds pop up was its first such initiative outside the capital.
ENDS
Notes to editors
UCKG is a Christian church and registered charity that offers a range of practical support activities alongside spiritual support and comfort and welcomes all-comers. It reached the UK in 1995 and has gone from strength to strength, providing support and spreading the Christian faith. There are UCKG HelpCentre branches in England and Wales.
For further information please contact the UCKG HelpCentre Press Officer via e-mail on press@uckg.org or direct line 020 7686 6033.