Finsbury Park soup kitchen catches on
Thursday, 23 April 2020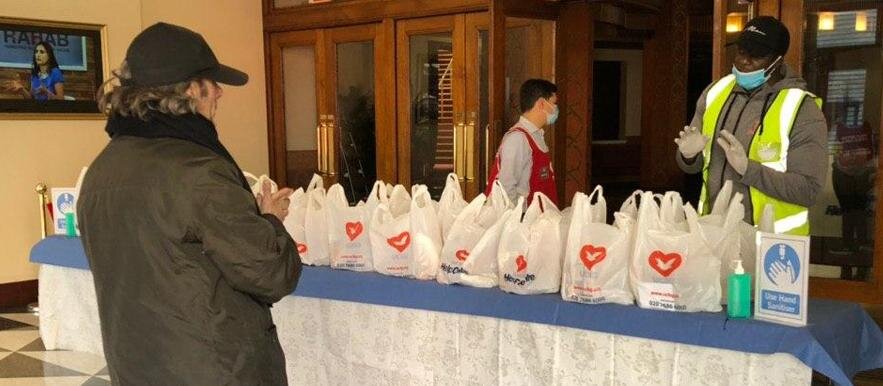 Attendance was up 50% after a week, at the UCKG HelpCentre's soup kitchen in its headquarters building, the Rainbow Theatre, on Seven Sisters Road, Finsbury Park.
Having opened for the first time on Easter Saturday, and handed out chicken soup and a small bag of groceries to 29 people, a week later 45 benefitted, and the menu was noticeably wider. By April 18, the UCKG HelpCentre was giving each attendee a choice of home-made chicken or vegetarian soup, while the takeaway bag was boosted with an apple and orange, cereal bars and a small box of cereal.
The soup kitchen is run by five volunteers from the UCKG HelpCentre, and seven Finsbury Park ministry residents, who are either pastors in the church or their wives. Together, they are implementing the planned two-hour opening sessions, from 11am to 1pm, each Saturday for the foreseeable future, during the coronavirus lock down.
Some of the volunteers had helped to cook the soup, others packed the bags and others managed distribution of the food at the door. Only the volunteers were allowed inside the building, as the food was handed out in the outer lobby.
Best practice as regards social distancing and protecting everyone against coronavirus was observed throughout. The volunteers all wore PPE, while people in need of the food formed lines outside, standing six feet away from each other, and entered one by one to get a share of the food.
Pastor Lucas, who led the volunteers said: "We are keen to help our community and those who are in need now because of the COVID-19 situation. He added: "There were by passers that were surprised with the voluntary work we were doing and one said 'I did not know you did this kind of work, I thought you were just a church'. That man was really proud to see us helping the community this way."
This comes at a time when only a handful of the hundreds of homeless day centres, soup kitchens and soup runs providing meals in London, are still open, despite government rules that allow them to continue their work.
ENDS
Notes to editors
UCKG is a Christian church and registered charity that offers a range of practical support activities alongside spiritual support and comfort and welcomes all-comers. It reached the UK in 1995 and has gone from strength to strength, providing support and spreading the Christian faith. There are UCKG HelpCentre branches in England and Wales.
For further information please contact the UCKG HelpCentre Press Officer via e-mail on press@uckg.org or direct line 020 7686 6033.