Curry Saturday at Catford Soup Kitchen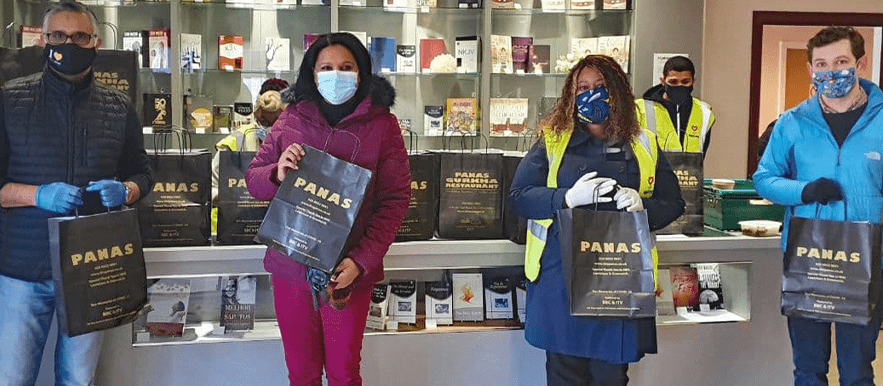 An award-winning Nepalese restaurant treated the 200+ regulars of the UCKG HelpCentre's soup kitchen at 1 Bromley Road, Catford, to a special meal on Saturday 23 January.
What's more Lewisham Easts' MP, Janet Daby, and the Mayor Cllr Damien Egan, came along, to meet chef Atul Kochhar from the Panas Gurkha restaurant, which provided the food, and the soup kitchen organiser Kim Powell.
First opened in 2017, the UCKG's Catford soup kitchen has quadrupled the number of people it feeds each week from around 50 to over 200 during the pandemic. Its 15 volunteers normally source ingredients for the soups and takehome packs they prepare from FareShare, supermarkets and local businesses and individuals.
For one week only, however Panas Gurkha gave them 100kg of food, all of which was cooked by the restaurant's Michelin star chef. Atul Kochhar said: "I came early morning and made a vegan spinach and chickpea curry. It's a super food by itself, and with some rice, I think it will nourish both the body and the soul."
Janet Daby MP added: "It is lovely to see how [the soup kitchen] has transpired into a real hub within this local community, to support people who are deprived, who are disadvantaged, or in a poverty situation.
"This soup kitchen is really in a pivotal place, both for transport links, which are excellent, but also [because] you are in the heart of Catford. I think it's really helpful for people to be able to see, and to come to where you are, as you are easily accessible."
The soup kitchen is open every Saturday from 11am to 1pm and provides soup, bread and light refreshments to anyone in need. It welcomes homeless people and those living in temporary accommodation, on low wages and young people.
ENDS
Note to editors:
UCKG is a Christian church and registered charity that offers a range of practical support activities alongside spiritual support and comfort and welcomes allcomers. It reached the UK in 1995 and has gone from strength to strength, providing support and spreading the Christian faith. There are UCKG HelpCentre branches in England, Wales, Northern Ireland and Scotland.
The Panas Gurkha Restaurant is owned by Sujan, its founder, who trained under Atul Kochhar, the first Indian chef to receive a Michelin star. He is passionate about great food and fine ingredients. The restaurant has won various awards including the prestigious Asian Curry Awards, 2019. www.thepanas.co.uk
For further information please contact the UCKG HelpCentre Press Officer via e-mail on press@uckg.org or direct line 020 7686 6033.