Striving for more
Adam, Armor of God, Christ, Christian, Christian Church, Christianity, God, Holy Spirit, Image of God, Jesus, Lord, Monday Independent Project, my spiritual life, Psalms,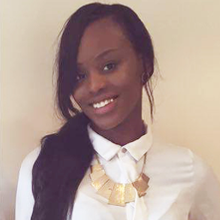 At first, I was working in retail, even though I was receiving decent income, I wanted a job that would portray the power of God. After attending one Monday Independent Project, I realised the vision I had for my life had to be greater than what I could currently see.
During the service we spoke about saving souls. As church members, if we couldn't testify about the great things God has done in every area of our life, why would someone who doesn't know Him personally believe anything we had to say?
For me, this was an instant sign to stop accepting small things, after all, my physical life would reflect my spiritual life! So after the service I used my faith and began to look beyond the generic jobs. Through perseverance I managed to find a good job in office administration.
Oneisha Palmer