Nottingham seniors try chair base Zumba
a great success, Christian Church, Christian faith, Exercise, fitness instructor, Nottingham, older people, Zumba,
Friday, 17 March 2017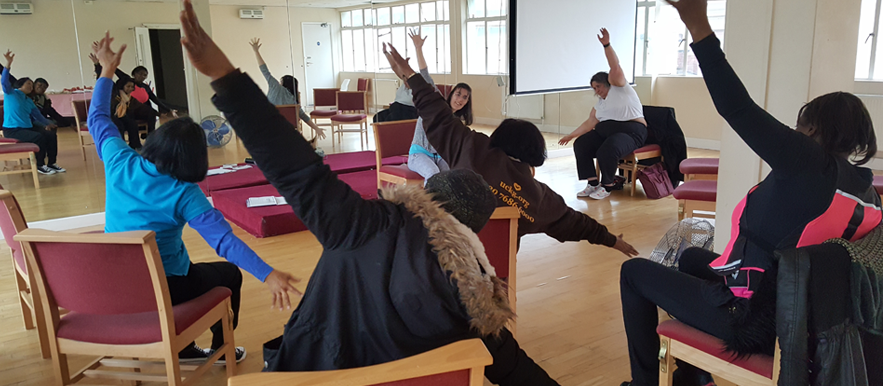 Exercise for older people is now greatly recommended, so members of the Caleb seniors' group at the UCKG HelpCentre in Nottingham were eager to join in a fitness afternoon at the centre on Saturday 11 March.
Led by qualified fitness instructor Michaela King, aka Micky, participants aged up to 80, tried chair based Zumba for the first time, doing dance moves to music while remaining seated.
The class was clearly a great success, with the oldest participant, Fortunata Calonge saying: "Good, great and thank you everyone!" Her friend Jane Drateru, added: "It was… brilliant actually… I liked everything because it was concerning our health." While another participant, Gina Canakiah was planning to put what she had learnt into practice and to go more of Micky's classes.
One of the Caleb organisers, Dorreth Bennet was surprised to find that sitting down and exercising really worked. "I didn't know it would have that impact," she said. "I felt the pain in the legs and arms but it was very enjoyable."
The event was organised by Carmelita Balande, leader of the Caleb group in Nottingham in association with Kim Powell, the UCKG HelpCentre's Community Outreach Manager. Similar events were held in other UCKG HelpCentres.
ENDS
Notes to editors
UCKG is a Christian church and registered charity that offers a range of practical support activities alongside spiritual support and comfort and welcomes all-comers. It reached the UK in 1995 and has gone from strength to strength, providing support and spreading the Christian faith. There are UCKG HelpCentre branches in England and Wales.
The UCKG HelpCentre's community outreach groups include Caleb for anyone over 55, seeking companionship, support or both.
For further information please contact the UCKG HelpCentre Press Officer via e-mail on press@uckg.org or direct line 020 7686 6033, or call the PR consultant on 07867 510909.