East London Youths Clean Up
a lot of people, people of the borough, set to work,
Thursday, 29 June 2017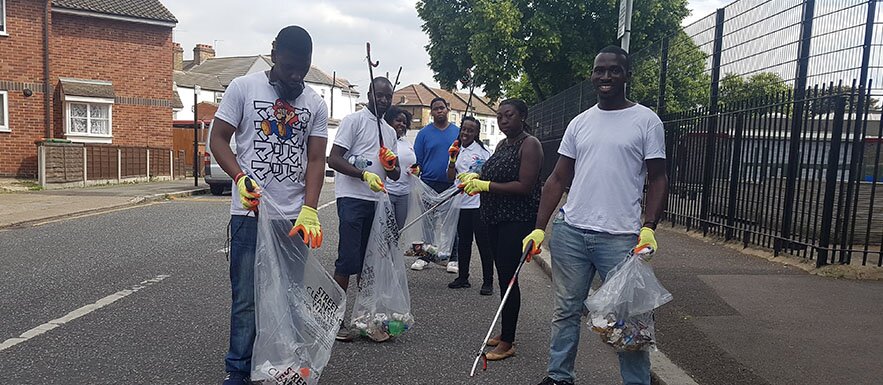 Under the umbrella of their annual 'We Care! – Youth Engagement' initiative, Victory Youth Groups (VYG) around the country put something back into their communities, often through a clean up or environmental project. This year, three east London branches set their sights on improving the area surrounding Queens Road West, Plaistow, behind Lister school.
Previously, the VYG had worked on the Queens Road West Garden but this year, it was decided to clear the surrounding area.
Volunteers from the Plaistow, Stratford and Ilford branches got together on Saturday 17 June, and assisted by Cllr Aleen Alarice and Newham's senior community neighbourhood officer Andrew De Heer, set to work.
Local residents were impressed with everyone's efforts and expressed appreciation for what was being done. They mentioned that a lot of people would drink, take drugs and leave things around that would mess up the area to the extent that some of the children could not go outside because of the hazards.
Clearly, the VYG's clean up was much needed, and the young volunteers had a good time doing it.
Redler Mpembe said: "I thought it was a good experience to go out there to take part and help the community in Newham. It's something I don't really do, but I enjoyed it."
Theo King added: "It was a great event that brought many young people of the borough together to do something positive in these times of rising knife crime and anti social behaviour."
Ram Bhowmik concluded: "I am really happy the way people helped to clean our path and garden. Really appreciated. Thank you."
ENDS
Notes to editors
UCKG is a Christian church and registered charity that offers a range of practical support activities alongside spiritual support and comfort. It reached the UK in 1995 and has gone from strength to strength, providing support and spreading the Christian faith through its branches in England and Wales.
VYG is the youth arm of the UCKG HelpCentre, and works to help young people develop their full potential. VYG started in the UK in 1996 and has been growing steadily ever since. Over 1,300 young people attend VYG meetings every week, sharing sessions that include practical teaching, fun and spiritual development.
For further information please contact the UCKG HelpCentre Press Officer via e-mail on press@uckg.org or direct line 020 7686 6033, or call the PR consultant on 07867 510909.