Children see, children do
able to help others, I decided to visit, in search of a better life, the advice that I received,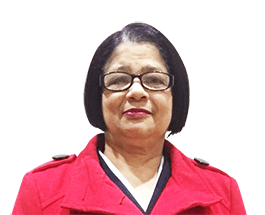 Firmina Pontes describes her childhood as 'not very good' when sharing her story. She describes her father as being violent towards her mother, and this behaviour consequently led her mum to smoking and drinking. Like every young child, Firmina wanted a happy home with both her parents, but at the age of seven, her parents separated.
'After my parents' split, I went to live with my dad, but our relationship wasn't the best. As I grew older, I decided to be independent. I got into a relationship at the age of 19 and fell pregnant. I was left to raise my daughter as a single parent but thankfully, my father was very understanding during that period.
After some time, I moved from São Tomé, where I lived, to Portugal with my daughter in search of a better life. I met someone there, and we later moved in together. He was very nice and caring, and we had two children together. I felt welcomed there. I began to attend the weekly meetings and started to notice some changes in me.
Soon after I found out that he was cheating on me. We spoke about this, and I believed when he said the cheating would stop, however it continued.
I then decided to move to the UK and my partner moved with us. However, things did not change so we separated after 20 years of being together. Leaving this relationship, left me discontent with life.
Throughout all of this, I had become very explosive. Everything was a reason to get angry. My body would shake a lot and I also couldn't sleep. This left me feeling alone with a deep sense of sadness within me.
I heard about the Universal Church on TV. I watched their programmes but never thought that I needed the help they offered. That is, until the penny dropped. I soon discovered that there was a branch near my house, and so I decided to visit.
I felt welcomed there. I began to attend the weekly meetings, where I received prayers and as a result started to notice changes within myself. I was no longer afraid and also began to sleep well. Throughout this period, there were times when I doubted that things could really change for me. However, the real-life stories of others and the advice that I received strengthened and encouraged me to keep going.
I persevered, and today I am completely different! I am happy, at peace with myself and have also forgiven those who hurt me. I am no longer explosive towards my children, in fact there is now unity in my family. I don't feel empty or alone and this might even sound funny, but I feel vibrant and younger. Today I am now able to help others who are suffering as I once was.'
Firmina Pontes