A player mentality
a completely different person, a huge debt, Alimony, Divorce, Marriage, Wife,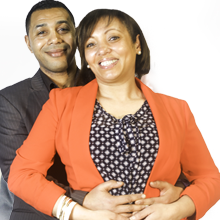 "When I started dating my wife, I thought that life would take on a new direction. We loved each other, so that was enough right?
In the lifestyle I lived before, I got involved in many futile relationships. But things didn't get any better when I got married. I hadn't erased my player mentality and I couldn't keep my hands off other women. This caused huge problems in our relationship.
Besides that, we accumulated a huge debt and almost lost our home. The strain of this problem on our marriage was so great that we separated for 3-months and I fell into depression.
My wife and I finally made up and my mother invited us to the HelpCentre. It was amazing to fight side by side with my wife, and because of our unity, things started getting better.
Today we are doing well financially. We are happy, fulfilled and have a wonderful marriage. I am faithful to my wife and we have a beautiful daughter. Most of all, I am a completely different person from the man I once was."
João Lopes