Universal Church opens its doors to Liverpool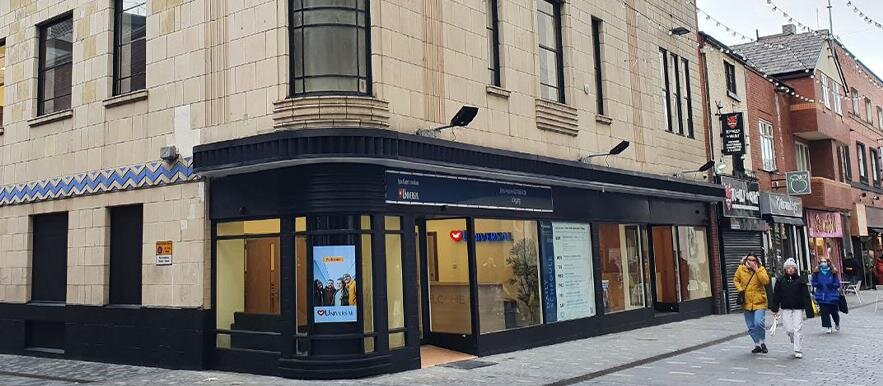 After years of having to hold services in conference centres and hotels, we finally have a permanent address in the city centre of Liverpool!
Nearly 200 people, including members from nearby branches – Leeds, Nottingham, Sheffield and Manchester – and first-timers filled the main auditorium in anticipation of the first service which was held on Sunday, 5th December at 5pm.
Pastor Renato Fernandes, who is overseeing the branch in Liverpool said that he is happy that the people of Liverpool can now attend services whenever they want. Of the service itself, he said: "Overall it was a great blessing. The service had inspiring testimonies from those who had been tormented in the past but have now found peace in God."
Our Liverpool branch is open seven days a week, offering free services which include: one-to-one spiritual advice sessions; 24-hour helpline and relationship guidance. The heart of our work is the daily meetings we hold at our Help Centres:
Monday – Financial Independence Meeting: 7am, 10am, 3pm, 6pm and 7.30pm
Tuesday – Healing Day: 7am, 10am, 3pm, 6pm and 7.30pm (Victory Youth Group at 6pm)
Wednesday – Faith School: 7am, 10am, 3pm, 6pm and 7.30pm
Thursday – Family Day: 7am, 10am, 3pm, 6pm and Love Therapy at 8pm
Friday – Spiritual Cleansing: 7am, 10am, 3pm, 6pm and 7.30pm
Saturday – Impossible Cases: 7am, Battlion meeting 10am
Sunday – Empowerment: Main Service 10am (also at 7:30am), VYG at 1:30pm and Bible Study at 6pm
Bruna Baptista, who lives in Leeds, but didn't want to miss the grand opening said that she believes the church will have a positive social impact in the area, especially the work of the outreach team that will be able to help a lot of people.
Early next year we will be launching our weekly Food Bank and Night Angels projects, with no other objective than to help and improve the local community.
The start of a new church is the start of a new beginning for most. Do you know someone who lives in Liverpool and could benefit from our weekly services?
Why not inform them that our new branch is up and running!
UCKG HelpCentre Liverpool: 19-25 Tarleton Street, Liverpool, L1 1DS
For more information, please call or WhatsApp us on: 020 7686 6000