UCKG's Peckham soup kitchen doing well
different cultures, word of mouth,
Thursday, 14 May 2020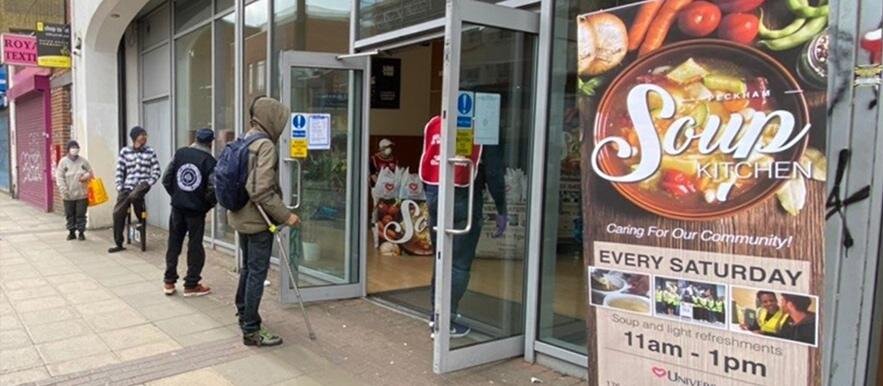 In a month of supporting local people in need, the UCKG HelpCentre's soup kitchen at Rye Lane, Peckham, has steadily increased its number of users week on week. Pastor Francisco and his team of volunteers are now assisting at least 75 people every Saturday with bags of food and freshly made sandwiches from the foyer of their premises.
The soup kitchen first opened on Saturday 18 April, when the government introduced its initial extension to the coronavirus lockdown, but now, even with a slight lifting of the restrictions, demand for its services has not abated.
At the beginning, Pastor Francisco, who runs the HelpCentre, and the volunteers collected plenty of food, and even other necessities like toilet rolls, from members of the Peckham congregation, and were able to help just 51 families. However, they have since spread their net, reaching out to nearby HelpCentres in Croydon and Catford to meet increased demand, as word of mouth and the banners outside have drawn more people to the soup kitchen.
Clearly, the food provided, which comprises sandwiches, juices, and canned goods has gone down well as users who visited the soup kitchen in the first week, are still returning. These people represent a variety of different cultures and ages, but are mostly middle aged, parents and homeless individuals.
It should be noted that all the volunteers are provided with PPE for the protection of themselves and the users and that all social distancing rules are applied.
ENDS
Notes to editors
UCKG is a Christian church and registered charity that offers a range of practical support activities alongside spiritual support and comfort and welcomes all- comers. It reached the UK in 1995 and has gone from strength to strength, providing support and spreading the Christian faith. There are UCKG HelpCentre branches in England and Wales.
For further information please contact the UCKG HelpCentre Press Officer via e-mail on press@uckg.org or direct line 020 7686 6033.