Free lunches to be had in Finsbury Park
homemade chicken soup, Rainbow Theatre on Seven Sisters Road,
Friday, 29 May 2020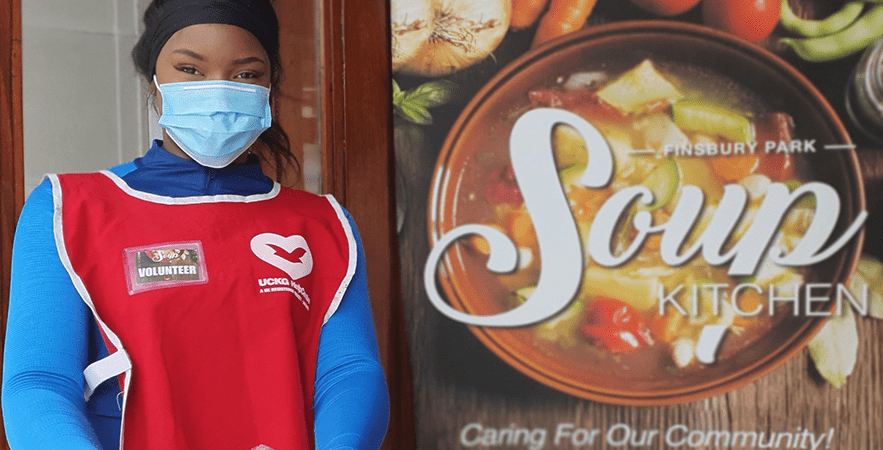 The widely held belief that "there's no such thing as a free lunch," simply does not apply if you're struggling to afford the food you need and happen to be in Finsbury Park on a Saturday between 11 am and 1pm.
Ever since Easter, the UCKG HelpCentre in the Rainbow Theatre on Seven Sisters Road has been opening a soup kitchen in its foyer, and providing home cooked soup and bags of essential foodstuffs for up to 47 people. Indeed, on Saturday 23 May, there were 20 users lined up, two metres apart, well before opening time, perhaps a reflection on the quality of the soup provided.
The people who use the soup kitchen are predominantly unemployed, homeless or elderly, however families and millennials who are in difficulty providing for themselves in the face of the coronavirus pandemic and shutdown, also come along.
The previous week, one user had told the organisers that normally the food and soups provided in such places come from non-perishable cans and don't taste fresh; but that he could tell that the HelpCentre's soup is made from scratch. He even thanked for "being this kind and not worrying about just giving food but making the best soup out there".
Ironically, such appreciation brings problems. It means that soup kitchen users are asking for an extra bowl for the evening or for family members. "In fact, there was such high demand for our soup on 23 May, that we had to close early," said Pastor Lucas who runs the soup kitchen.
He continued: "Our solution is that for the following week we sought help from the team who have been running the soup kitchen at our Catford branch for three years. They are now providing us with two pans of homemade chicken soup and another of vegetable soup, giving us enough for 85 portions. That is a result."
The Finsbury Park soup kitchen is run by volunteers from the UCKG HelpCentre, including local residents who are pastors in the church or their wives. They either help to prepare the soup, in line with all the proper food safety rules of course, pack the bags of essentials to take away or hand out the bags from the outer lobby of the HelpCentre.
Only the volunteers are allowed inside the building, as best practice as regards social distancing and protecting everyone against coronavirus is carefully observed. The volunteers all wear PPE, while people in need of the food queue two metres away from each other, and entered the lobby one by one.
David, one of the volunteers said: "The fact that we are getting a queue shows how effective and useful this has been for many at this time. Overall, it is good to see that we are making an impact in the lives of people of different cultures, ethnicities and backgrounds."
ENDS
Notes to editors
UCKG is a Christian church and registered charity that offers a range of practical support activities alongside spiritual support and comfort and welcomes all-comers. It reached the UK in 1995 and has gone from strength to strength, providing support and spreading the Christian faith. There are UCKG HelpCentre branches in England and Wales.
For further information please contact the UCKG HelpCentre Press Officer via e-mail on press@uckg.org or direct line 020 7686 6033.