The wife of a wounded soldier – Part 2 – A tale by Claudia Brito
Ambulance, God, hospital, Husband, I could not accept, I had to motivate them, infirmary, physical stress, unbearable pain, wives,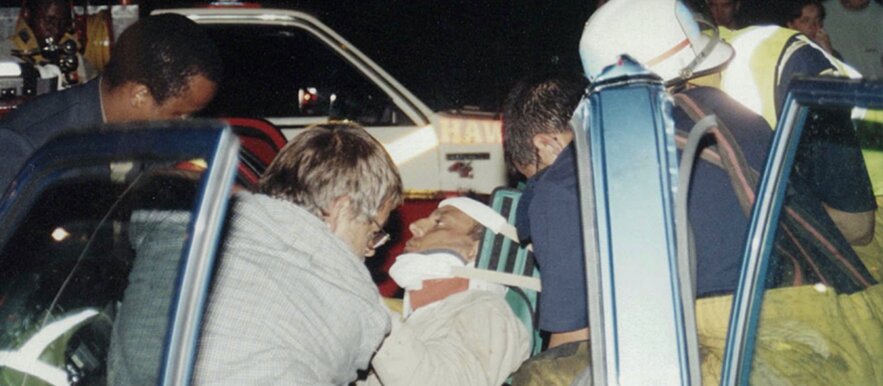 The wife of a wounded soldier – Part 2 – A tale by Claudia Brito
Lying down in bed, recovering from a recent surgery, I heard the doorbell ring. One of my daughters and one of the Pastors' wives who was living with us at the time went to open the door. They found themselves staring at an unknown messenger who had come to deliver some bad news. He said, "I am sorry to tell you that there has been a terrible accident… They have been rushed to hospital…" Until today, I can still hear my daughter's scream. It served as my call of duty.
Call of duty
Now that my husband and the two Pastors had become casualties of war, everyone turned to me for answers. In an instant, I was cast from the infirmary into my husband's shoes at the frontline of the battlefield.
We rush to the hospital and discovered that the accident had been serious. It was so serious that it made front-page news in national newspapers. My husband was trapped for hours by the car's steering wheel and paramedics had to free him using the Jaws of Life. They later discovered that he had ruptured his pelvis, which rendered him immobile. He was under a lot of unbearable pain and physical stress. My husband, who had always been my rock and my leader, now needed me to lead and fight for him.
With the guidance of our overseers, I found myself having to make decisions I wasn't used to making. Who was going to hold the morning service, now that all the Pastors were in hospital? We couldn't let the people down, because we were fairly new in the country and did not yet have health insurance. The hospital also wanted us to settle bills upfront.
Lots of thoughts were going through my mind. Which hospital and what treatments could we afford with our limited resources? We were in the middle of planning an event and the phone did not stop ringing. Everyone was looking to me for answers. I had no time to hesitate. It was time to put into practice everything I had learnt from observing my husband in action, and to make sure the Work of God did not stop.
The frontline of the battlefield
The frontline of the battlefield is no place for cowards or emotions. It requires strength and strategic thinking. Not only did I need to be strong for myself, but I had my children and other Pastors' wives depending on me. They shouldn't see any weakness in me. I had to motivate them, assure them and help them face their own private battles. I had to think ahead and weigh the consequence of every decision I made, so as not to cause any problem.
Today, as I sit and reflect on this experience, I ask myself, "What led me to be able to withstand that much pressure? Why wasn't I, like many women would have been, crushed and become overwhelmed by that situation?"
One word comes to mind: REVOLT!
Revolt burned inside of me and made me look at the bigger picture. I could not accept to be unsuccessful with the mission God had entrusted in our hands. I had to see our mission through. This revolt led me to face whatever obstacles came our way, so failure was not an option! But, the enemy I was facing wasn't prepared to go down without a fight. He was firing shots at us from all directions.
Yet again, we received some unexpected news, which dealt us a very tragic blow…
To be continued…
Mrs. Claudia Brito