Removing all hurt and abuse
emotional and spiritual support, the right help and support,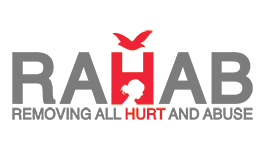 Women face many hardships, but when those hardships include abuse, trauma, and other confidence-shattering events, the wounds are hard to heal and the memories are not so easily forgotten. Like a jigsaw puzzle, the more complete our past is recalled, the clearer and sadder it becomes in our mind.
To stifle terrible events, women turn to various things; some throw themselves into their work, some look for comfort and worth in relationships, while others go as far as turning to substance abuse or other destructive activities. Whichever outlet they choose, the core reason remains the same: to forget the traumatic experience.
This is why the RAHAB (Removing All Hurt And Abuse) Project exists: to empower women to face their past while equipping them with the tools they need to rebuild themselves from within to be truly free to embrace their future.
RAHAB is a group of ordinary women: mothers, daughters, and wives, both young and old; who have experienced and overcome difficulties and believe that, with the right help and support, anyone, no matter their background or experience, can be the best that they can be from the inside out.
The RAHAB group comprises carefully selected DBS-checked volunteers, who work to support women and help them overcome their difficulties, rediscover their value, and learn to love themselves again.
The group offers emotional and spiritual support through courses that encourage self-reflection and promote self-confidence, women-only meetings where various topics are discussed, and events to raise awareness of different issues affecting women, including outreach initiatives and events in different settings.
RAHAB also works with professional volunteers, such as solicitors and social workers, who offer free help and guidance to women for matters that are more sensitive.
Whether you or someone you know has been a victim of abuse, is suffering from low self-esteem, or is struggling to overcome past trauma, the RAHAB Project is here for you. No matter who you are, you may not be able to change your past, but you can draw strength from it.
The RAHAB project can be found at all Universal Churches across the UK and around the world. Go to one of our addresses or book a one-to-one session with an advisor by email at rahab@uckg.org.