Over 900 youths in London march against gun and knife crime
HelpCentre headquarters, Life's Worth Living, providing sports activities for youths, Universal Church in the UK, work to tackle the ongoing problem,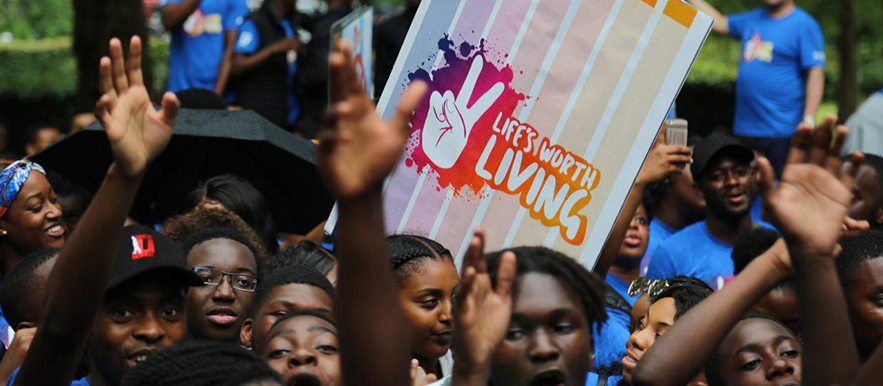 Gun and knife crime in the UK has sadly been rising each year, affecting many young people and their families. In response to the wave of knife crime across London, the Victory Youth Group (VYG) held the Life's Worth Living march to spread awareness.
The successful march was held on Saturday 27th July at 3pm, where over 900 youths from all around London and even youths from outside of London walked from Canning Town to Stratford Park. Whilst marching the youths were able to spread the word using banners, speakers, t-shirts and handing out flyers, all declaring one message that Life's Worth Living!
The march concluded in Stratford Park with a prayer done by Bishop Alvaro, leader of the Universal Church in the UK – of which the VYG is the youth arm.
Speakers included the Mayor of Newham Rokhsana Fiaz, who was proud to see young people making the difference and stated the importance of creating an environment of safety and peace which she promises to work on within Newham.
Chris Preddie, who is the youngest black male to receive an OBE from the Queen, for his youth work also spoke on the day, he stated "We can't wait for others to come and do something about this. We are the ones that are seeing so we are going to do something."
Peguy Kato, a mother of a former victim of knife crime was present to support the movement and shared her grief letting all those present know "My son could have been here and been a part of a group like this but he is not and never will be." Her words emphasised the importance of making wise choices as a young person.
Ade Titilawo, co-ordinator of the VYG UK, stated that "All those present are one and as one we will work to tackle the ongoing problem."
Following on from the march there will be activities, which are open to all young people, aimed at helping youths be productive, and lessen the likelihood of being interested in gun and knife crime.
Ade Titilawo stated, "We are currently seeking venues in the vicinity of our seventeen London help centres where we will be providing sports activities for youths from 4.30pm on Sunday afternoons.
We'll also be holding a financial workshop that will take place every Tuesday in the afternoon and evening. This workshop aims to help youths build financial security, entrepreneurship and also guidance on wise spending and savings".
The workshop will take place at our HelpCentre headquarters at the Rainbow Theatre, Finsbury Park.
All in all, although the weather was quite rainy on the day, it didn't stop the powerful unity. The youths had to get the message across, that – Life's Worth Living.