Life is…learning to leave the past behind
absolute joy and peace, change, help, I had anger issues, peace, the past,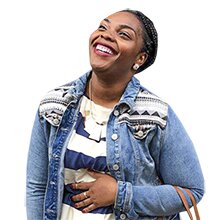 At a young age, I was taken advantage of and abused. I had anger issues and I started hallucinating. My problems didn't stop there; in school, I was failing in all my subjects. There even came a point when I tried to commit suicide. My life felt stuck, and I didn't know how I would move forward.
Fortunately, my father invited me to the UCKG HelpCentre. I took part in two special movements in order to see a total transformation and receive peace in my life. I never felt like giving up because I was always determined to keep pushing. As a result of the movements I took part in, I no longer feel stuck. Instead, I know the direction my life is heading in, and I am filled with absolute joy and peace.
Today, I am a graduate who is serving God. I also run a small business, which demonstrates my talent and my ambition to achieve big things. This experience has taught me that perseverance is key. I've learnt that whatever you ask God for, He will give you the answer you are looking for – as long as you are hungry for it.
Eucharia Nwachukwu