Liberty Local outreach 'first' for Tooting
a source of help and guidance, prayer station,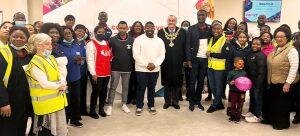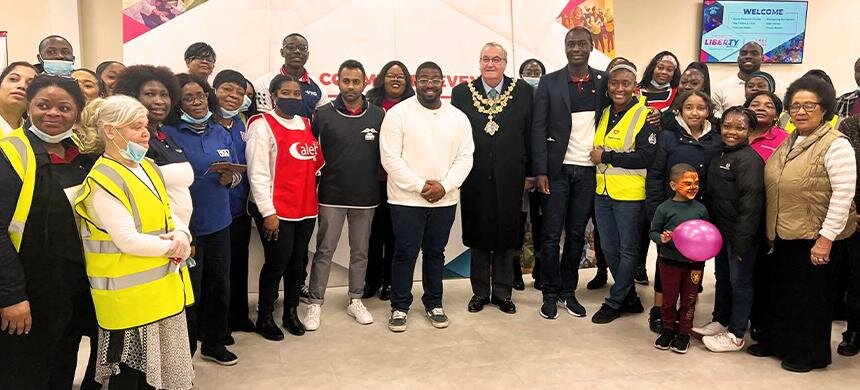 Around 60 local people came along to the UCKG HelpCentre on Upper Tooting Road, London SW17, on Saturday 26 February, for family fun, food, entertainment, and to learn about the free support services on offer there.
Themed 'empowering our community', this was the first ever Liberty Local outreach event, designed to strengthen the HelpCentre's links to its community, as a church and a source of help and guidance. As such it was the natural successor to a bigger Liberty event, held at the flagship HelpCentre in FinsburyPark, last summer.
The guest of honour was the Mayor of Wandsworth, Councillor Richard Field who toured the stands and demonstrations run by various of the UCKG's community outreach groups and saw its weekly food bank inaction. One of the highlights was when he awarded the Wandsworth Mayoral Pin to two of the food bank volunteers, Pastor David Osei and Jefferson Iweh, for their outstanding service to the community, adding the Tooting food bank to his 2022 roll of honour.
Entertainment for the younger attendees included face painting, done by the HelpCentre's youth groups.These are UTF, for 11 to 14 year olds, and VYG, which is all about helping teens and twenties make the most of themselves, while having  lots of fun.
The Caleb group offered pampering in the form of manicures and pedicures for seniors, while adults of all ages could avail themselves of blood pressure testing and nutritional advice, provided through the Patient Care Group.
For those with other sorts of problems there was a corner focused on depression, with the offer of quiet one-to-one conversations; a prisoners and families support group that writes letters and helps with rehabilitation into society; and a prayer station.
Delicious hot food was donated by several local restaurants, and included Asian and Caribbean specialities, pizzas and barbecue specials. "We are very grateful to Dawat, Don's Hut, Lahore, Franco Manca and Meat & Shake, well done to everyone who helped make the event a great success" said David Nzuruba, the UCKG's community outreach manager.
ENDS
Notes to editors
UCKG is a Christian church and registered charity that offers a range of practical support activities alongside spiritual support and comfort and welcomes all- comers. It reached the UK in 1995 and has gone from strength to strength, providing support and spreading the Christian faith. There are UCKG HelpCentre branches in England, Wales, Northern Ireland and Scotland.
For further information please contact the UCKG HelpCentre Press Officer via e-mail onpress@uckg.org or direct line 020 7686 6033.