Kilburn soup kitchen is growing
faith groups, seeking additional donations,
Friday, 1 May 2020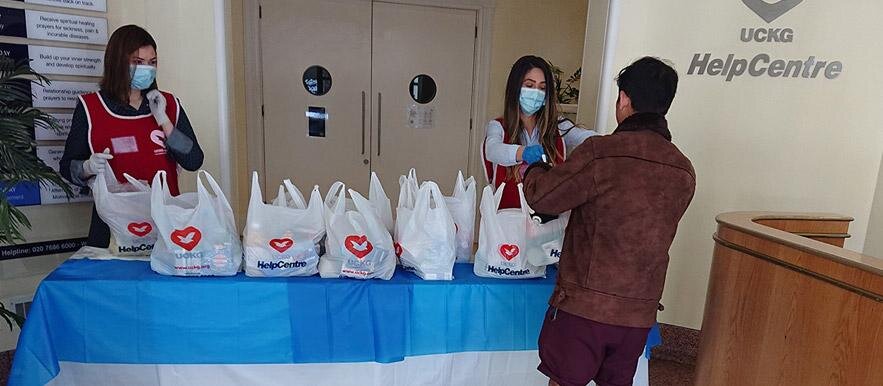 With attendance up by 50% a week after it opened, the soup kitchen at the UCKG HelpCentre on Kilburn High Road is clearly meeting a local need in the face of the coronavirus lockdown.
Having supplied 30 local people with some basics last week, the soup kitchen saw 46 attendees on Saturday 25 April, and there was more in the bags of groceries they each received. This time around the bags included rice, pasta, milk, water, cereal, tin tomatoes, tin soup, and tuna to name but some.
One of those who benefited was Warren, 57, of Cricklewood who said: "This helps us during the coronavirus and we need this".
The extra food was possible because many more members of the UCKG HelpCentre were giving. However, the organiser, Pastor Carlos, and his team of volunteers, are now seeking additional donations from the public and shops as well as their members, as there was still not enough to meet demand from late-comers.
"We would very much appreciate any non-refrigerated foods that people can spare," Pastor Carlos said. "Please get in touch by emailing me at klb.eng@uckg.org. You can be certain nothing will be wasted."
Those who came along last week reflected Kilburn's diverse ethnicities and the faith groups that the people belonged to, and were, once again on the older side. Attendees included returners but were predominantly new people. Some had learnt about the soup kitchen by word of mouth, while others were there in response to the banners outside the soup kitchen and the UCKG's social media activity.
A total of 11 volunteers are engaged in running the soup kitchen. Users will be reassured to know that they all had PPE and that social distancing was strictly observed. Opening hours are 11am to 1pm, every Saturday.
ENDS
Notes to editors
UCKG is a Christian church and registered charity that offers a range of practical support activities alongside spiritual support and comfort and welcomes all- comers. It reached the UK in 1995 and has gone from strength to strength, providing support and spreading the Christian faith. There are UCKG HelpCentre branches in England and Wales.
For further information please contact the UCKG HelpCentre Press Officer via e-mail on press@uckg.org or direct line 020 7686 6033.