Kilburn soup kitchen hits its target
expressions of appreciation, people from the local area,
Thursday, 14 May 2020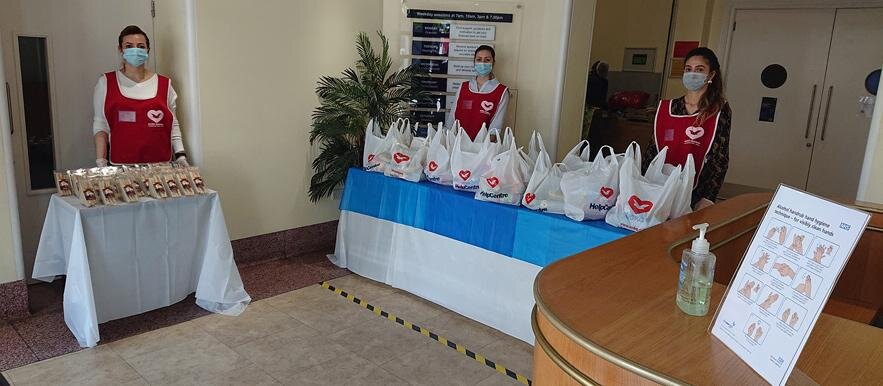 On Saturday 9 May, supply matched demand for the very first time at the soup kitchen, which pops up weekly, at the UCKG HelpCentre on Kilburn High Road.
After four weeks in operation the soup kitchen finally received enough in the way of donations of nourishing basic foodstuffs for all 85 people who turned up plus both of the families that the HelpCentre has been supporting with deliveries for the past two weeks.
The bags of non-perishables and freshly made sandwiches were handed out to all sorts of people from the local area who were in real need of food. They included families and individuals, some elderly folk and some who are homeless.
The bags contained rice, pasta, bottled water, long lasting milk, cereal, cooking oil, tinned tomatoes, tuna and more. The organiser, Pastor Carlos, who runs the HelpCentre and its soup kitchen said: "Sandwiches were freshly prepared for the recipients since soup cannot be prepared at our premises."
Pastor Carlos continued: "Last Saturday we managed for the first time to meet the demand and do it within our allocated two-hour time slot." He attributes this to the fact that this initiative now seems to be recognised by many in the local community.
"We continue to see new people coming along to collect, hence the increased number of bags for the fourth week running but, we are also having plenty of returners; there were 35 of them this week."
Among the many expressions of appreciation that Pastor Carlos received were these: Diana Fausto of Kilburn High Road said: "Thank you for this big help for us. God bless". Mary McCarthy of Winston Lane, NW6 added: "You are approachable and cheerful, it is lovely".
However, it was John Kennedy of Roundwood Road, NW10 who reflected the sentiments of the church members who run the soup kitchen, saying: "Good to see my church working within the community, it is a blessing". Pastor Carlos and his team of volunteers are certainly hoping to continue this local service for as long as necessary during the coronavirus virus outbreak.
ENDS
Notes to editors
UCKG is a Christian church and registered charity that offers a range of practical support activities alongside spiritual support and comfort and welcomes all- comers. It reached the UK in 1995 and has gone from strength to strength, providing support and spreading the Christian faith. There are UCKG HelpCentre branches in England and Wales.
For further information please contact the UCKG HelpCentre Press Officer via e-mail on press@uckg.org or direct line 020 7686 6033.