I Gave Myself The Green Light!
attend the meetings, God, I know how to confront problems, purpose of faith, the best thing,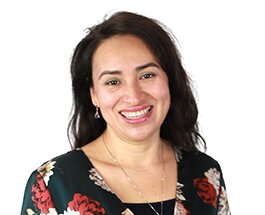 Gladiz was so easily overcome by her emotions that she would cry about everything and was very insecure. Her husband could not cope with the way she was, so he returned to their home country, leaving her alone with their son.
"I found it very difficult to sleep at night. Once, I stayed up watching TV, and while flipping through the channels, I found TV Record, on which there was a programme from the UCKG where it showed testimonies from several people, and I found that I could relate to many of them. I decided to visit the UCKG and saw that it was a help centre. The first time I tried to go to the UCKG, I didn't go inside. I couldn't stop thinking about it, so several days later I went again. I spoke to an advisor who reassured me that I could overcome all my problems. I started to attend the meetings at the UCKG on Wednesdays, Fridays and Sundays.
Since coming to the UCKG, my life has started to change, starting with me as an individual. I was set free from the sadness that I used to carry constantly. Now, I am emotionally stronger. I know how to confront problems without fear of failing, I am more confident, and I value myself as a woman. Through my new attitude, I was able to reconcile with my husband. I learnt that when we surrender our all, God blesses us in abundance.
I had waited ten years for a house from the council. Since my son was five years old, we had lived in a one-bedroom flat. At the time, my son was young, so it was ok, but as he grew, it became quite uncomfortable for him and even for me. Once, he was very ill and we were told to get a letter from the GP so the council could help, but it didn´t work. They said that we had to follow their procedures and wait.
At the UCKG, I decided to participate in a purpose of faith. I fought with all I had, asking for justice because I couldn´t stand it anymore. It was all or nothing. I made some sacrifices inspired by my faith. It was not easy because we had several things to pay for and we were just about to go on holiday without much money left to spend, but I had to do this because I really couldn´t cope with the situation any longer. Not long after, I received a call from the council asking us to view a two-bedroom flat. The lady who showed us the flat asked us if we wanted it. I said 'yes' immediately, but she said that we still had to wait because there were five other families in front of us.
I waited patiently and trusted God, and the next day, they called me to tell me that the flat was mine! I couldn´t believe it. My son now has his own room and the flat is big enough for all of us, but the best thing of all is that we only pay 2 pence more rent than for the previous place.
I learnt that we must surrender our all and remain faithful through every situation in life. We must give ourselves permission to move forward. Change comes from within, and although it takes tremendous courage, it is never impossible!"
Gladiz Pereira