How I overcame abuse and self-harming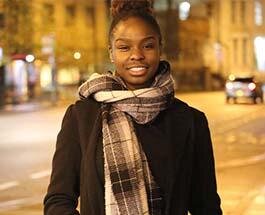 The trauma of sexual abuse impacted me deeply. I felt broken, and disconnected from the world. I was filled with profound sadness that kept coming and going; it seemed like my world had lost all colour – everything was black and white. It was impossible to escape, some days felt unbearable. I felt alone.
I'd lock myself away in my room for days, waking up every morning with no purpose, just waiting to fall asleep again so I wouldn't have to face my reality. Sometimes, I would watch my sisters leaving for school and think 'they have more of a reason to wake up in the morning than me'. I envied that they had the strength to get up and do something with their lives.
The thought of ending it all often forcefully came into my mind, to the point that I'd plan different methods of how to carry it out. I started self-harming to try and relieve my suffering. I know it doesn't make sense but in my mind, it was as though the physical pain could make the emotional ache more tolerable. It may sound strange but that's how lost I felt. This was my life for about five to six years.
I heard people sharing their testimonies of how their lives had transformed at the Universal Church but I couldn't understand why mine was still the same. I was haunted by an event that ruined my life and was desperate for some guidance. I wanted to work through the trauma and come out the other side stronger and happier.
The turning point for me was following a Night Vigil I attended at the Universal Church. That night, I asked myself, 'How long will you keep on suffering in silence?' The first step was for me to be open to receive help. What worked for me was prayer and being able to speak to someone.
Accepting help
The Spiritual Cleansing meetings on Fridays were where I learned how to fight against the negative thoughts that plagued me while the prayers were a way for me to rid myself of the negativity that tried to fill my mind. Each time I took part, I left feeling lighter. It was not an easy battle because some of those negative thoughts were deeply rooted inside of me. However, as I was determined not to be defined by the traumas of the past, I kept persisting. I had used so much strength being broken; now, I wanted to take that strength and use it to find contentment and happiness. Over time, I was able to let go of the horrific events from my past and overcome the deep sadness.
Finding peace
I started believing in myself and in God too. His presence in my life brought me a peace of mind that filled the emptiness I had—I can't explain it. Now, none of my past problems affect me anymore.
I have a strong mind and a reason to wake up every morning. Even when problems arise, I don't run away from them. I draw strength from my faith and can face my battles. Today I'm happy, the 'colour' has been restored in my life, and I finally have the peace I had been searching for."
Elizabeth Sokan