Gift of Easter Eggs for Leeds Children's Charity
Give Warmth Appeal,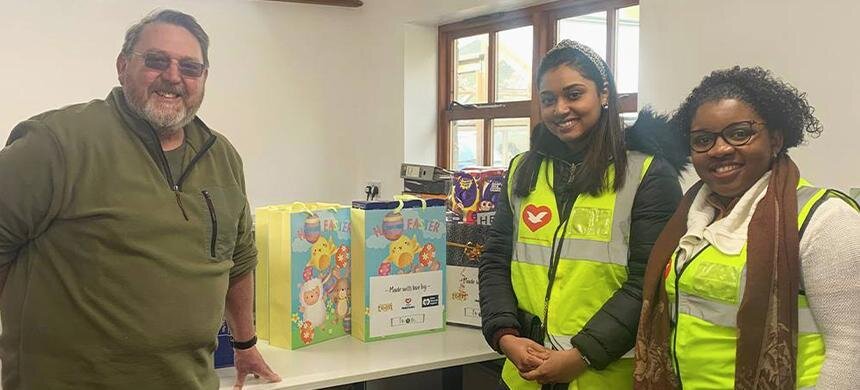 Children and young teens from the UCKG HelpCentre in Leeds have reached out to some of the city's less fortunate youngsters with a gift of 58 chocolate Easter eggs.
Dave Norman, director of the Leeds Children's Charity accepted the donation at the charity's Lineham Farm activities centre on Monday 11 April. That was when Nidhi Drintaj and Teresa Malecama, representing the UCKG's Children's Biblical Centre (CBC) and Universal Teen Force (UTF) brought the sweet treats to the farm, under the aegis of their ongoing Give Warmth Appeal.
The Easter eggs were donated by the 11 to 14 year olds of the UTF, their advisers and the CBC's educators and helpers who look after younger children while parents are attending the UCKG's services. It was their way of showing solidarity with other children in their city.
Many popular brands of Easter eggs were included in the gift, among them KitKat Chunky and Smarties eggs, Dairy Milk Buttons and Creme eggs, and Peppa Pig and PAW Patrol eggs.
Meleita Ledgister wife of the HelpCentre's senior pastor said: "We decided to reach out and help the Leeds Children's Charity as it works with the most disadvantaged children in the city, offering them respite from difficult, and sometimes abusive, home lives. We saw our Give Warmth Appeal as a great opportunity to support this charity, its mission, and add something special to the children's Easter."
ENDS
Notes to editors
UCKG is a Christian church and registered charity that offers a range of practical support activities alongside spiritual support and comfort and welcomes all-comers. It reached the UK in 1995 and has gone from strength to strength, providing support and spreading the Christian faith. There are UCKG HelpCentre branches in England, Wales, Northern Ireland and Scotland.
For further information please contact the UCKG HelpCentre Press Officer via e-mail on press@uckg.org or direct line 020 7686 6033.