Everyone kept telling me 'no!'
believing in my dream, building my business, Business, Business plan, How To Open A Business, I was motivated, planted inside of me,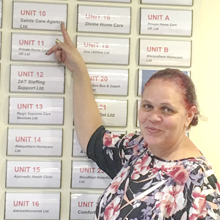 Wanting and actually having a business are two very different things. I know this because every time I tried to start mine, I never succeeded. But I never stopped believing in my dream. I paid to have my business plan drawn up, but everyone around me kept telling me that I wouldn't be able to establish my business.
It was horrible to be constantly rejected, but it was the belief in my idea that kept me going. I didn't give up and kept running towards my dream. I wasn't going to take no for an answer. I was so determined about it because of the faith that had been planted inside of me.
By taking part in the Independence Project meetings on Mondays and campaigns at the UCKG HelpCentre, every week was an opportunity for me to realise my dream. I was motivated by the testimonies I heard of others making their dreams come true, and I knew that it was not impossible for me. Although there was a tug of war in my mind due to what close relatives had said, I kept a positive mindset. After about a month, I was able to start taking steps towards building my business. I firstly managed to do my registration and even get an office; now, all I needed was the clients.
Today, my business is so busy and bursting with clients that I can refuse to accept new ones, because my carers are unable to take them on. Every day we receive new clients.
Taking part in the campaign paid off. My life has completely turned around and the same can happen to you.
Julie Field