Easter Eggs for Midlands children's hospices
Universal Teen Force,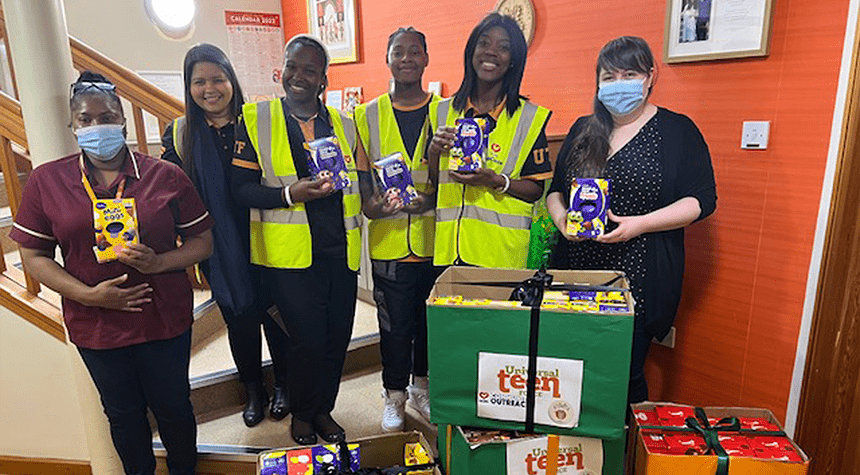 The 11 to 14 year old members of the Universal Teen Force (UTF) from the UCKG's Bullring HelpCentre in Birmingham, generously donated 215 Easter eggs to the Midlands-based Acorns Children's Hospices this year.
The tasty treats were delivered on 14 April, in good time for Easter, by a team comprising Thamires Souza, wife of the senior pastor at the Bullring HelpCentre, and three of the UTF volunteer helpers, Neuza Chimuco, Leonela Pontes and Lucia Morais.
The donation was made under the banner of the UCKG's ongoing Give Warmth Appeal, which provides both treats and necessities to some of Britain's more disadvantaged children and adults, particularly at Christmas and Easter. On this occasion, the gift included such popular brands of Easter Eggs as KitKat, Maltesers, Smarties, Cadbury and Aero chocolate eggs.
The Acorns hospices, which operate in Worcester, Birmingham and Walsall, and in the community, were selected because of their invaluable compassionate work with sick babies and children.
They provide specialist palliative care for little ones with life limiting or life threatening conditions, and support their families. Their mission is to help people cope at every stage of their child's life and beyond, wherever and whenever the support is needed.
Steph and Sue, two of the hospice's workers accepted the Easter eggs, and expressed gratitude on behalf of everyone there.
ENDS
Notes to editors
UCKG is a Christian church and registered charity that offers a range of practical support activities alongside spiritual support and comfort and welcomes all-comers. It reached the UK in 1995 and has gone from strength to strength, providing support and spreading the Christian faith. There are UCKG HelpCentre branches in England, Wales, Northern Ireland and Scotland.
For further information please contact the UCKG HelpCentre Press Officer via e-mail on press@uckg.org or direct line 020 7686 6033.