The Life's Worth Living football match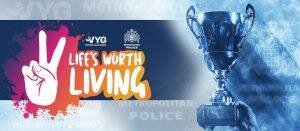 The Victory Youth Group (VYG), the Universal Church's youth network, has organised a charity football match on Sunday, November 7, with members of the Metropolitan Police force.
This friendly match will be played at the New River Sports Centre, White Hart Lane, Wood Green, N22 5QW.
This event aims to continue promoting the fact that life is worth living, and that young people don't need to head down a wrong path in life, as well as showcasing the work our Youth Group does within the community.
Doors will open from 2pm, with the match kicking off one hour later, at 3pm.
The idea for this event was initially put forward by a Metropolitan Police officer who attended our Liberty Event in August. The officer was really impressed by what he saw that he put forward the idea to play a football match between the VYG and the Met Police.
The Football Match will be a great opportunity for those that have never been to the VYG or the church to see what the group has to offer, and also for people to come together to have fun for a good cause.
Tickets cost £10, with all proceeds going towards furthering the VYG's charity work.
For more information about how to get your ticket please call or WhatsApp us on, 020 7686 6000.
---
The VYG was established in 1996 and is the UK's largest and most active youth group network for teens and young people aged 14-25 years old. We have a weekly attendance of approximately 1000+ members in over 40 locations and growing. The VYG helps you become your best self through mentoring, weekly meetings, and many more fun activities.
Reggie Nelson, from East London, said: "The VYG was exactly what I needed in terms of coming out of my comfort zone and learning to be excellent in what I do. There's a great push towards young people being above average and everyone involved in the VYG works together to implement that."
Another member, Louis Kargbo, from Fulham said that being in the Victory Youth Group has helped him 'be more mindful' of the things he does. "I'm not making as many mistakes because I'm more conscious of what I do and how I conduct myself outside of the youth group".
Stay up to date with upcoming events for the VYG, by following its social network platforms:
Instagram: www.instagram.com/officialvyg/
Facebook: www.facebook.com/victoryyouthgroup
Twiter: https//twitter.com/OfficialVYG