Civic grand opening for Hammersmith food bank
the work of the food bank,
Wednesday, 4 May 2022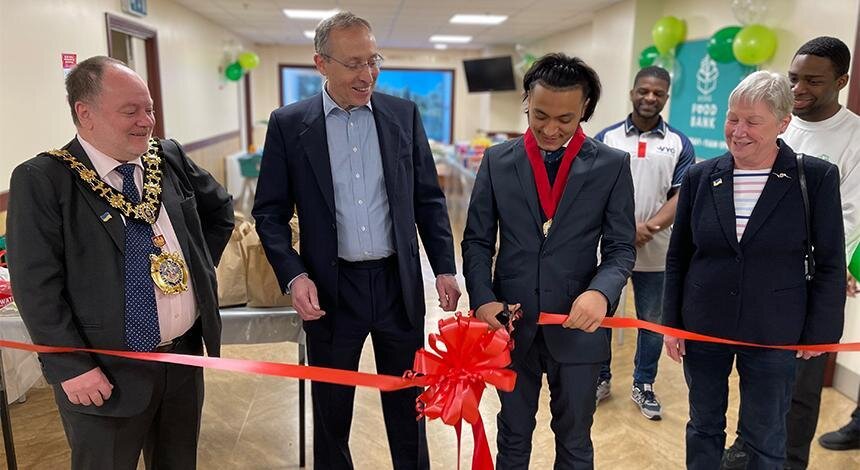 The UCKG HelpCentre food bank in Hammersmith Broadway Shopping Centre, held its grand opening on Saturday 30 April, supported by the local MP, Andy Slaughter, the Hammersmith & Fulham youth mayor, Ben Ruzbehan, and the mayor and mayoress of Hammersmith, Councillor PJ Murphy and Mrs Mary Murphy.
The hosts were led by Pastor Anderson, the UCKG's senior pastor at the HelpCentre and its community outreach leader, Claudien Mwalimu.
Most importantly 32 people used the food bank on the day of the grand opening. They had a splendid variety of fresh, canned and dried food to choose from, including ready meals, pies, pizzas, fruit and vegetables, and tea, coffee and hot chocolate. The food was donated by Lidl, Waitrose, FareShare Go and the HelpCentre's members.
Pastor Anderson, opened the occasion with a prayer, and then Andy Slaughter addressed those present. He said: "This is such a fantastic venture… I just wanted to say thank you to all the volunteers, the church, and to everybody who is helping here". He added: "it's great that people are stepping up to the plate by doing this but I look forward to the day we will no longer have food banks."
Claudien Mwalimu added his thoughts on the work of the food bank, saying: "I am very happy to be a part of a work that extends itself to the community and brings a sense of hope and belief in these difficult times".
Finally, Ben Ruzbehan who is the 16 year old Hammersmith & Fulham youth mayor, and a student at the Phoenix Academy in White City cut the ribbon, formally opening the food bank.
ENDS
Notes to editors
UCKG is a Christian church and registered charity that offers a range of practical support activities alongside spiritual support and comfort and welcomes all-comers. It reached the UK in 1995 and has gone from strength to strength, providing support and spreading the Christian faith. There are UCKG HelpCentre branches in England and Wales.
For further information please contact the UCKG HelpCentre Press Officer via e-mail on press@uckg.org or direct line 020 7686 6033.