Catford youth show teaches younger ones about relationships
Christian faith, consent and pressures, England and Wales, Home Office, on social media, PR consultant, Queen of Hearts, Sexual abuse, the meaning of consent, young people,
Monday, 27 March 2017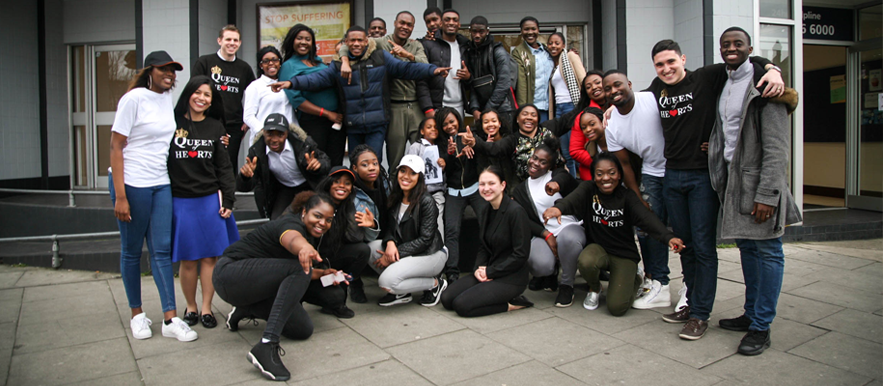 On Sunday 19 March a team of young people from the local branch of the Victory Youth Group (VYG) put on a show, named Queen of Hearts, for younger teens, to help them understand what good relationships are all about.
Introduced by Cllr Janet Daby, Lewisham's Cabinet Member For Community Safety, and held at the UCKG HelpCentre in Catford, the event attracted an audience of over 200, ranging from teens as young as 14 to parents and friends.
Using VYG's tried and tested blend of song, dance and drama, plus a real-life case study, Queen of Hearts followed the progress of a girl in multiple relationships and the negative impact this had on her. In particular it looked at issues of consent and pressures in relationships.
Dating and hanging out with a number of different boys simultaneously did not result in the 'heroine' ending up with the pick of the bunch, but alone. She was never happy as a result of her attention-seeking and inability to say no.
Queen of Hearts was developed and produced by members of Catford VYG in just three weeks and promoted on social media, in association with Kim Powell, the UCKG HelpCentre's Community Outreach Manager.
Commenting after the show, Cllr Daby said: "I was delighted to have been invited to the event yesterday and thoroughly enjoyed the atmosphere and enthusiasm from the young people. It seems you have a strong leadership for the youth which demonstrates the strength of your organisation."
Kim Powell added: "The VYG certainly excelled themselves, judging by the receptiveness of the audience, and we very much hope that people will act on the show's messages about respect for self and others."
The show took place against the background of the current Home Office Disrespect NoBody campaign. This seeks to help 12 – 18 year old boys and girls understand the nature of a healthy relationship and re-think their views of controlling behaviour, violence, abuse, sexual abuse and the meaning of consent.
The aim is to prevent the onset of domestic violence in adults by challenging attitudes and behaviours among young people that abuse in relationships is unacceptable.
ENDS
Notes to editors 
UCKG is a Christian church and registered charity that offers a range of practical support activities alongside spiritual support and comfort. It reached the UK in 1995 and has gone from strength to strength, providing support and spreading the Christian faith through its branches in England and Wales.
VYG is the youth arm of the UCKG HelpCentre, and works to help young people develop their full potential. VYG started in the UK in 1996 and has been growing steadily ever since. Over 1,300 young people attend VYG meetings every week, sharing sessions that include practical teaching, fun and spiritual development.
For further information please contact the UCKG HelpCentre Press Officer via e-mail on press@uckg.org or direct line 020 7686 6033, or call the PR consultant on 07867 510909.