9 Sundays of the Fruit of the Holy Spirit – Goodness
Parable of the Good Samaritan, the Holy Spirit,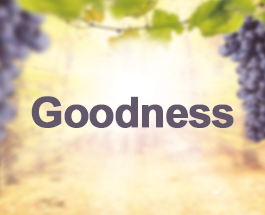 A good person is generous and forgiving. He's always ready to help and to enforce the law of love regardless of the circumstances. The Parable of the Good Samaritan is an example of goodness.
Then Jesus answered and said: "A certain man went down from Jerusalem to Jericho, and fell among thieves, who stripped him of his clothing, wounded him, and departed, leaving him half dead. Now by chance a certain priest came down that road. And when he saw him, he passed by on the other side. Likewise a Levite, when he arrived at the place, came and looked, and passed by on the other side. But a certain Samaritan, as he journeyed, came where he was. And when he saw him, he had compassion. So he went to him and bandaged his wounds, pouring on oil and wine; and he set him on his own animal, brought him to an inn, and took care of him. On the next day, when he departed, he took out two denarii, gave them to the innkeeper, and said to him, 'Take care of him; and whatever more you spend, when I come again, I will repay you.' (Luke 10.30-35)
From this, we gather that anyone can practise goodness – whether or not they are Christian and whether or not they have anything to do with the Lord Jesus. So, if it is possible for people who have never experienced the Holy Spirit to be good, what about those who have God in their lives? It is their duty!
A good person is never concerned about himself and never expects anything in return. He doesn't look at a person's colour, gender, appearance or financial status, and delights in glorifying the Lord Jesus through acts of generosity.