9 Sundays of the Fruit of the Holy Spirit – Love
dedicating yourself to others, desire is to give,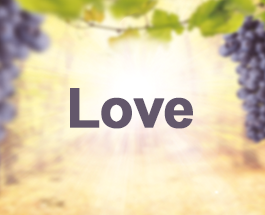 Basically, love consists of wanting others to have what we would like for ourselves.
It's about dedicating yourself to others, spending time and energy on behalf of others in the same way that we voluntarily spent time and energy on ourselves. The cross of the Lord Jesus symbolises pure and true love. The vertical bar representing our love for God, the horizontal bar, our love for others.
In love we find the two greatest commandments of the Law of God, which are:
'"You shall love the Lord your God with all your heart, with all your soul, and with all your mind." This is the first and great commandment. And the second is like it: "You shall love your neighbour as yourself." On these two commandments hang all the Law and the Prophets.' (Matthew 22:37-40)
This verse reveals that love is not a simple sense of compassion or affection. In fact, love is defined by the sacrifices a person makes for someone else without expecting anything in return. He loves without any personal interest; his only desire is to give. One of the best definitions of love is giving.