VYG celebrates a year's achievements online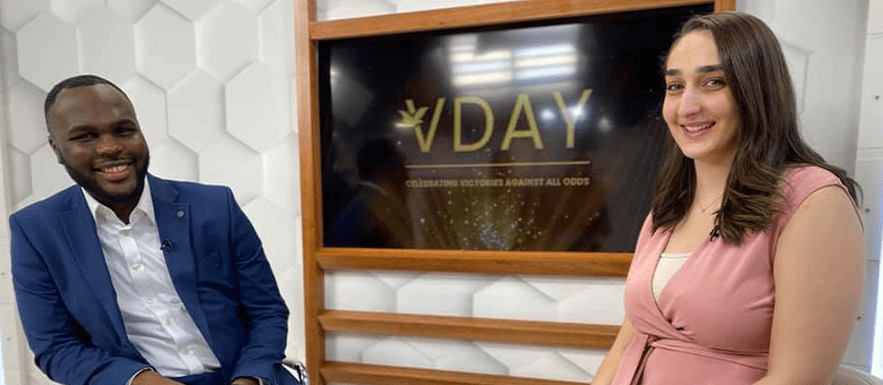 For the first time, members of the Victory Youth Group (VYG) celebrated a year's achievements virtually, when their 13th annual VDAY celebrations were streamed at 5pm on libertyradio.co.uk on Saturday 27 March.
In past years some 1,300 youths aged 14-25 would gather at the UCKG HelpCentre in the Rainbow Theatre, Finsbury Park to celebrate those members who had successfully transformed their lives over the previous 12 months, using faith in rejecting anger, violence, hurts and addictions to become happy, fulfilled citizens.
This time, however, the members and no doubt many invited friends from their schools, colleges, universities and workplaces, settled in at home throughout the UK, to watch a celebraion of victory against all odds during the pandemic. VYG members, like other young people, have seen their life prospects jeopardised and their mental and physical health under threat, yet so many have risen to overcome the challenges and end the year as better people.
The two and a half hour event comprised of testimonies and performances from VYG branch members, hosted by national VYG leader Ade Titilawo and his wife, Kimberly.
The stories they shared all had a commonality, a feeling of void and unhappiness that instant gratification could not fill. And over 11 testimonies from young married couples and singles within VYG revealed how many significant problems were overcome and lives were changed by God through the work of the VYG.
The VYG's V-Records – performed two songs, Goals and Chosen for the occasion. Inspirational videos shown throughout the celebration, reflected real life testimonies, the effects of gang violence and the importance of salvation.
The Book of Remembrance that is usually given to the branches each year on VDAY was displayed. This time around it was in the form of a digital gallery highlighting the outstanding work of the VYG in north, east, south, and west London and the rest of the UK throughout the year.
Entries showed VYG members' supporting such activities as the UCKG's soup kitchens in Finsbury Park and Kilburn, and the Food Bank in Croydon, which all opened during the pandemic.
Attendees who commented included Antonia Ferreira of Southall, who said: "I definitely rate it 10/10! VYG pulled it out of the bag and the testimonies showed how open they were about faith in God and not formal religion. I loved it very much!"
Nanji from Kilburn branch added: "10/10. The life transformations were amazing and the message is something that has to be remembered always".
ENDS
Notes to editors:
VYG is the youth arm of the UCKG HelpCentre, and works to help young people aged 14 to 25 to develop their full potential. VYG started in the UK in 1996 and has been growing steadily ever since. Over 1,300 young people attend VYG meetings every week, sharing sessions that include practical teaching, fun and spiritual development.
UCKG is a Christian church and registered charity that offers a range of practical support activities alongside spiritual support and comfort and welcomes all- comers. It reached the UK in 1995 and has gone from strength to strength, providing support and spreading the Christian faith. There are UCKG HelpCentre branches in England, Wales, Northern Ireland and Scotland.
For further information please contact the UCKG HelpCentre Press Officer via e-mail on press@uckg.org or direct line 020 7686 6033.