UCKG's Catford soup kitchen growing rapidly
donations of food, team of volunteers,
Tuesday, 7 April 2020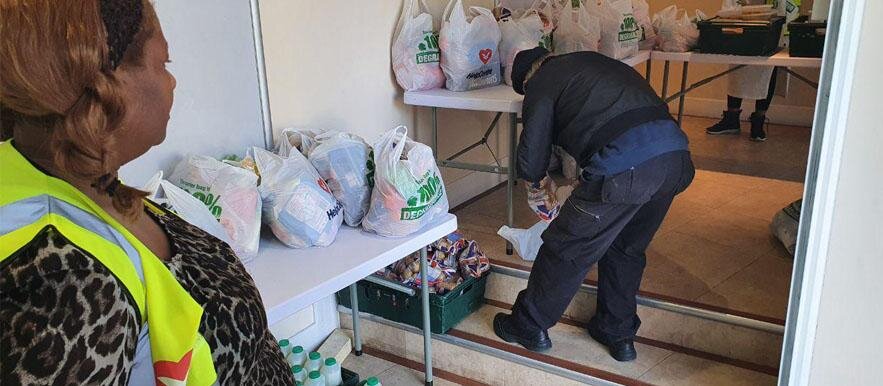 Expansion, which means serving more hungry and homeless local people, is now the name of the game at the UCKG HelpCentre's Saturday soup kitchen, held at 1 Bromley Road, Catford each week.
Last Saturday (4 April) 95 people came to the soup kitchen and were fed, up by nearly 60% on the previous week and well over the regular attendance of 30 – 45 people. The organisers are now looking for additional support for as long as the coronavirus emergency carries on.
"We urgently need funding for the purchase of a larger fridge and a freezer, so that we can store more food as it arrives, and hand out more to local people who would otherwise go hungry," said the soup kitchen's manager, Kim Powell.
Collecting more food, and ensuring regular supplies is the other critical activity, and already the UCKG's team of volunteers, who are mostly retirees and catering industry professional, are making progress.
"The supermarkets have been generous again this week, with Aldi and Waitrose both increasing their donations," added Kim Powell, "Fareshare has also given more, and we have had donations from the public. Catford Community Fridge provided two car loads of pre-packed takeaway food and also some Easter Eggs."
While the soup kitchen is never sure what it will receive each week, it is certainly getting support. Kim Powell continued: "We are doing all we can to make sure we will have enough to supply for the needs of our community".
The aim is to provide each user with a bowl of home cooked soup and a takeaway bag of items.
The soup kitchen is run by volunteers from the HelpCentre who so far have been providing their own personal protective equipment (PPE). Every precaution is taken to minimise the risk of coronavirus infection for both volunteers and the people being served. All food is pre-packed; and it is not even necessary for users or helpers to touch door handles.
Further donations of food or personal protective equipment (PPE) to Catford soup kitchen are much needed and would be most welcome. Anyone wishing to contribute should contact Kim Powell by e-mail to outreach@uckg.org.
ENDS
Notes to editors
 
UCKG is a Christian church and registered charity that offers a range of practical support activities alongside spiritual support and comfort and welcomes allcomers. It reached the UK in 1995 and has gone from strength to strength, providing support and spreading the Christian faith. There are UCKG HelpCentre branches in England and Wales.
For further information please contact the UCKG HelpCentre Press Officer via e-mail on press@uckg.org or direct line 020 7686 6033.