UCKG sends supplies to Ukraine
Friday, 25 March 2022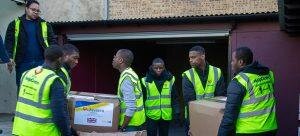 A four person team from the UCKG HelpCentre's headquarters in Finsbury Park has just completed its first humanitarian mission to Ukraine, with a load of almost 3.2 tonnes of non-perishable food, water, and other essentials.
Community outreach manager David Nzuruba and Claudemir Ferreira, a volunteer from the church's congregation, assisted by translator Joanna Najdrowska and Fernando Campos who also filmed the trip, set out on their journey across Europe on 18 March. Their vehicles were packed with a wide selection of tinned food along with baby food and cereals, men's thermal socks, sanitary products for women and AA batteries.
Their destination was Waimea Logistic Park at Korczowa just 3 km (1.86miles) from the Polish/Ukrainian border crossing. From there everything was transferred for onward transport by a carrier with the resources to take it all into Ukraine.
"We've all seen the on-going suffering of the people in Ukraine, and wanted to play our part in helping out with some of the basic essentials," said David Nzuruba. "We checked out what would be most needed via various websites, and our members across the UK were only too willing to step up and contribute.
"Additionally we put a call out to our soup kitchen and food bank contacts and received donations from supermarkets like Morrisons in Holloway and Canning Town".
The UCKG HelpCentre, which is a church and charity focused on helping people improve their lives, whatever the circumstances, is looking to further assist the Ukrainian humanitarian crisis for as long as it takes.
ENDS
Notes to editors
UCKG is a Christian church and registered charity that offers a range of practical support activities alongside spiritual support and comfort and welcomes all-comers. It reached the UK in 1995 and has gone from strength to strength, providing support and spreading the Christian faith. There are UCKG HelpCentre branches in England, Wales, Northern Ireland and Scotland.
For further information please contact the UCKG HelpCentre Press Officer via e-mail on press@uckg.org or direct line 020 7686 6033.