Soup kitchen feeds some of South London's most needy
providing free provisions,
Friday, 29 May 2020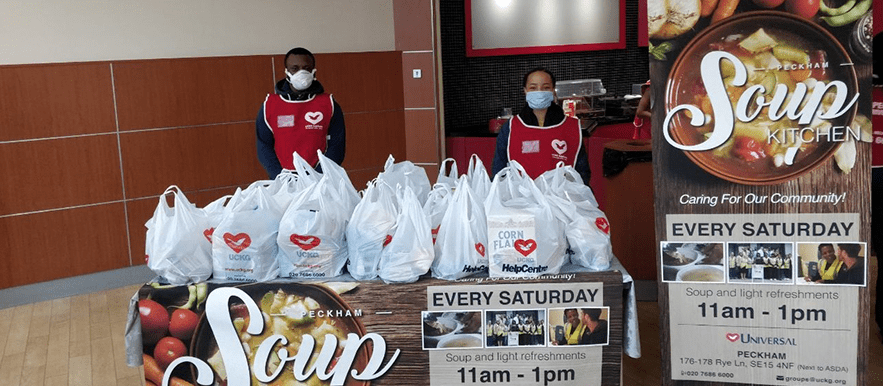 With 50% – 60% of its attendees either homeless or unemployed, the UCKG HelpCentre's soup kitchen on Rye Lane, Peckham saw demand for its services increasing week on week to 85 individuals helped on Saturday 16 May, and 92 on 23 May.
Others who came along and received a bag of essentials were mainly from families, however there was a sizeable cohort of 22 older people on 23 May. The food everyone received was donated by Tesco and by members of UCKG HelpCentres across South London, and there was enough to go around.
The food bags that were handed out contained such items as rice, pasta, eggs, bread, sugar and tomato sauce. There were also sandwiches and juices available, for those who have no cooking facilities. However, the organisers established that most had access to a kitchen of some sort, a result of homeless people being accommodated in hostels, etc because of the coronavirus pandemic.
The soup kitchen organiser, Pastor Francisco commented that homelessness is now more difficult than ever, with the risk of COVID-19 added to the problems of having no home, no job and virtually no money.
The soup kitchen is endeavouring to relieve one of these stresses for some in Peckham by providing free provisions. And in agreement one attendee, Donovan Morrison said: "Can't afford much food. Very appreciative of the food, will help very much".
The soup kitchen first opened on Saturday 18 April when the government introduced its initial extension to the coronavirus lockdown. It should be noted that all the volunteers use PPE for the protection of themselves and the users and that all social distancing rules are applied.
ENDS
Notes to editors
UCKG is a Christian church and registered charity that offers a range of practical support activities alongside spiritual support and comfort and welcomes all- comers. It reached the UK in 1995 and has gone from strength to strength, providing support and spreading the Christian faith. There are UCKG HelpCentre branches in England and Wales.
For further information please contact the UCKG HelpCentre Press Officer via e-mail on press@uckg.org or direct line 020 7686 6033.