Mayor presents award at Liberty Local event, Peckham
Friday, 25 March 2022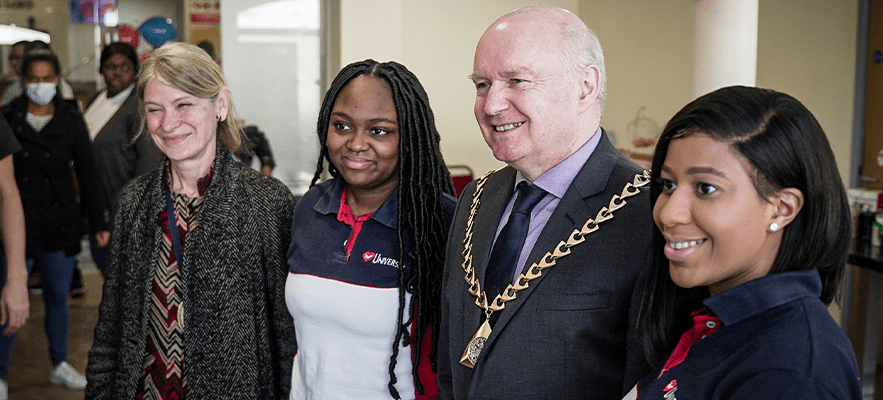 The highlight of Liberty Local, the recent community outreach event at the UCKG HelpCentre on Rye Lane, Peckham was a presentation by the Mayor of Southwark in recognition of the church's extensive community support work.
Councillor Barrie Hargrove, handed over a certificate noting the "assistance provided to the community during COVID and for continued support to the people of the London Borough of Southwark" to Pastor Fabio, the senior pastor in Peckham.
Accompanied by the High Sheriff of Greater London, Mrs Lynn Cooper, he also took the opportunity to see the outreach in action, touring the stands and demonstrations on display, and meeting some of the many volunteers who deliver the outreach, week in, week out.
During the event, the HelpCentre's regular Saturday soup kitchen was in action, serving hot meals to local, Peckham people in food poverty. And Mrs Cooper showed particular interest in the Rescue of Dignity, prison support group, which assists prison inmates through letter writing and helps with rehabilitation into society.
 Other support services designed to provide practical, emotional and spiritual support that were on show included blood pressure testing, linked to a nutritionist, the UCKG's support group for people suffering with depression, and a prayer station. Caleb, the UCKG's outreach group for older people provided free manicures and pedicures for seniors, while the Night Angels told of their work distributing toiletries to rough sleepers.
The event was rounded off with a lively dance performance for the special guests, by the UCKG's youth group, VYG.
ENDS
Notes to editors
UCKG is a Christian church and registered charity that offers a range of practical support activities alongside spiritual support and comfort and welcomes all-comers. It reached the UK in 1995 and has gone from strength to strength, providing support and spreading the Christian faith. There are UCKG HelpCentre branches in England, Wales, Northern Ireland and Scotland.
For further information please contact the UCKG HelpCentre Press Officer via e-mail on press@uckg.org or direct line 020 7686 6033.