Leeds Youths March Against Knife Crime
changing his lifestyle, members of the public,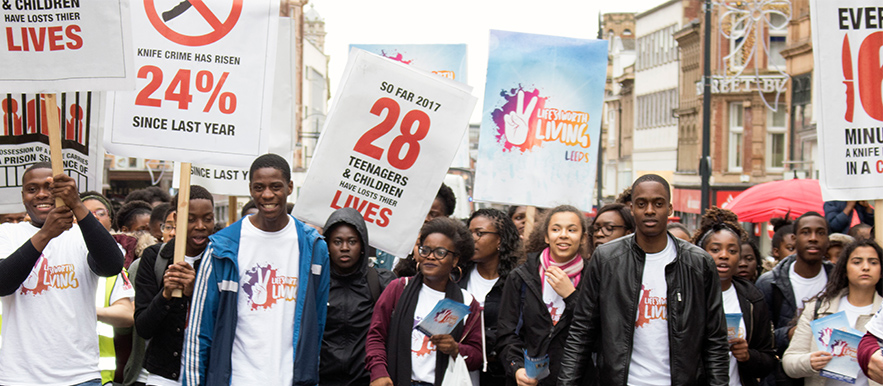 Young people from the Leeds branch of the Victory Youth Group (VYG) marched through the city centre from Regent Street to Dortmund Square on Saturday 21 October to boost awareness of gun and knife crime, and declare their opposition to it.
The march, which took place between 2pm and 5pm was organised in response to a knifing in central Leeds a month earlier, and set out to raise awareness of the growing number of gun and knife related crimes in the area.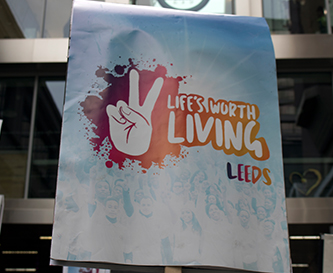 A high spirited crowd of 150 youths and others from the UCKG HelpCentre, where VYG is based, was eager to show that just as people can decide to do wrong, so they can decide to do what is right. They also wanted to show that when someone is directly affected by a crime of this nature, not only does the victim suffer but so do others around them.
Shoppers and passers-by stopped the marchers to ask what it was about and after an explanation many members of the public joined in.
At the end, special guest Enio Guimarães shared his story about past affiliations with such activities and how the HelpCentre assisted him in changing his lifestyle. He said: "It was really positive, I had many people come to speak to me afterwards, they were inspired and even wanted to find out more about the UCKG."
The organisers thank West Yorkshire police whose support and assistance with the event contributed a great deal towards its success from beginning to end.