'It's fulfilling to learn that a note you left helped someone'
the Night Angels,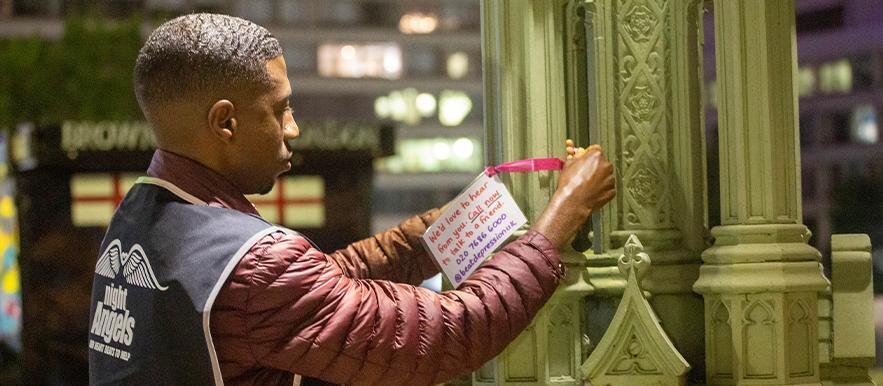 Established in 2012, the Night Angels are a group of men and women who go and provide aid to those in need. We approach those who we believe need our help when they feel they've tried everything.
One of the volunteers, Tai Marjadsingh, got involved recently and has told us about his experience: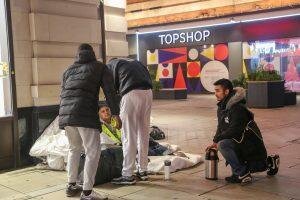 "I got involved with the Night Angels around a couple months ago because they were looking for people to volunteer as we realised that there were more and more people suffering at night."
On Friday nights, Tai typically does one of two things: either goes to different areas and gives out food and supplies to the homeless, or goes to bridges and puts signs up telling people not to give up and to call the 24-hour helpline.
Another volunteer, Francis Momoh, shared what being part of the Night Angels means to him:
"Being in the Night Angels is very good. On Fridays, instead of resting, I use this time to go out and help those who don't have anything else, who are on the streets or have given up on life. I now have a perspective into a different world. It gives meaning to my week because I go out, see what I can do for someone, see who I can reach out to, who I can help, who I can give food to."
Francis mentions that some people just want to be seen, "Sometimes we walk down the street and don't even notice them ourselves, but I take this time to go out and help those who are in need."
The volunteers take pride in being part of the Night Angels and in helping those most vulnerable. If you would like more information about the Night Angels, you can call or WhatsApp us on 020 7686 6000.