Football helping the fight against knife crime
for the benefit of communities, knife and gun crime,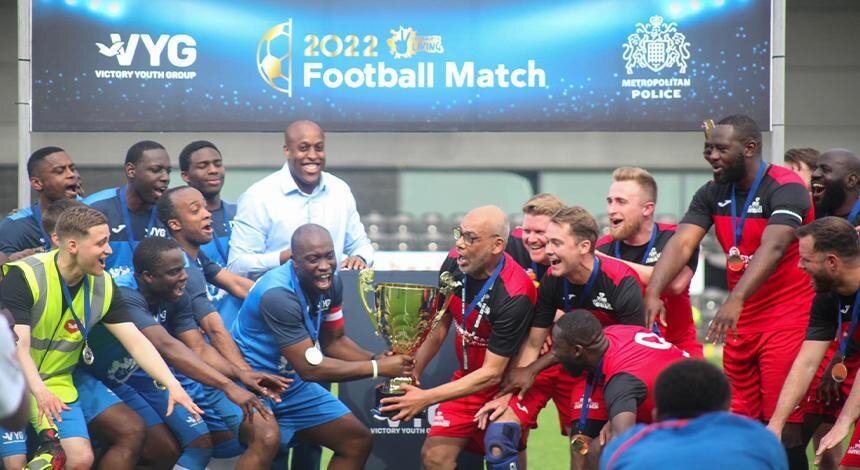 There was both a carnival atmosphere and a serious message behind the Metropolitan Police v VYG football match at The Hive Stadium, in Canons Park, north west London on Sunday 22 May. The aim was to promote awareness of the fight against knife and gun crime and encourage unity between youths and the police to help in getting violence off the streets.
VYG is the youth arm of the UCKG HelpCentre. It operates a long-running campaign against knife and gun crime, called 'Life's Worth Living'. A VYG team first played the Met at football under the Life's Worth Living banner in November 2021, and it was such a success that a bigger and better follow-up was arranged for 22 May.
In the event, the VYG won on both occasions, with a 5-3 score this time, and the two teams lifted the trophy together as a sign of unity and celebration.
Bishop James, who leads the UCKG in the UK opened the event with a prayer and a blessing for the day and for the Met who risk their lives to protect our community. Action on the pitch started with an energetic VYG dance performance, before the entry of the players.
At half time, when the VYG was in the lead, there was a march by police cadets. Chief Superintendent Jeff Boothe, invited the young people and parents who were attending to visit the Met's recruitment stand, because of the need to encourage more people of diverse backgrounds to consider a career in policing.
By full time, youth pastors Nnamdi Okonne and Will Ozono (2), and VYG member and man of the match Claudien Mwalimu (2) had all scored for the VYG, while Met officers had scored three goals.
At the end of the game all the players received commemorative medals. The consensus was that the event has been a great success, and that there is great value in coming together both on and off the pitch for the benefit of communities.
ENDS
Note to editors
UCKG is a Christian church and registered charity that offers a range of practical support activities alongside spiritual support and comfort and welcomes all-comers. It reached the UK in 1995 and has gone from strength to strength, providing support and spreading the Christian faith. There are UCKG HelpCentre branches in England, Wales, Northern Ireland and Scotland.
For further information please contact the UCKG HelpCentre Press Officer via e-mail on press@uckg.org or direct line 020 7686 6033.