Catford soup kitchen looks to long-term needs
Community Centre,
Thursday, 28 May 2020
With the end of the coronavirus lockdown in sight, the UCKG HelpCentre's soup kitchen at 1 Bromley Road, Catford, is redoubling its efforts to ensure that it has enough food for everyone who turns up. The users now total 95 individuals who come along to the regular sessions, that run from 11am to 2pm each Saturday, and there is no suggestion that the numbers will fall any time soon.
"In the past week alone, we've received increased donations from Aldi, Waitrose, and FareShare," said the organiser, Kim Powell, "and we're very grateful to everyone who helps. We also received community support from Catford Fridge who donated two car-loads of pre-packed takeaway food and some Easter Eggs."
Community Fridges are one tried and tested way of stopping good food ending up in the bin. Their fridge, at the Lewisham Irish Community Centre, makes spare perishable food freely available to members of the public.
Others who have donated recently include Help the NHS, Innocent Smoothies, Tesco, Compass Food, Co-op, Caring Foundation (The Ivy Collection and Bill's Restaurant, Blackheath) and Charlton Macro.
Since young people are particularly hard hit by job losses, volunteers who run the soup kitchen were touched but not surprised when one such user, Lana, said: "The soup kitchen is a life saver. I don't get much money at the moment and I have also been homeless. If it wasn't for the soup kitchen, I wouldn't eat. This place is needed. I've never felt so much love I am always welcome."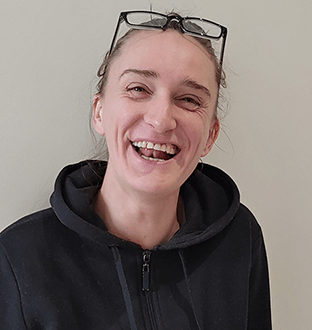 Her appreciation was echoed by Kirsty (seen right), another user, who comes from Croydon. She said: "I think it's brilliant, it's been a tremendous help to the community, where the volunteers take time out of their own lives to make sure we are being supported and not in any form of need. Thank you very much for all your help. God bless you all."
Each user receives a bowl of hot, home-made soup and a takeaway bag of basic food items.
It should be noted that every precaution is taken to minimise the risk of coronavirus infection for the volunteers and the people being served. Among other things, this involves PPE for the volunteers, and maintaining social distancing so volunteers and users do not get too close or touch each other.
ENDS
Notes to editors
UCKG is a Christian church and registered charity that offers a range of practical support activities alongside spiritual support and comfort and welcomes all-comers. It reached the UK in 1995 and has gone from strength to strength, providing support and spreading the Christian faith. There are UCKG HelpCentre branches in England and Wales.
For further information please contact the UCKG HelpCentre Press Officer via e-mail on press@uckg.org or direct line 020 7686 6033.