A Night to start again
Advent, Baptism with the Holy Spirit, Facebook, God, Holy Spirit, Jesus, Lord, Mark Zuckerberg, Victory Youth Group,
O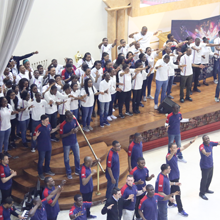 n the 29th of April, young people from all over the UK gathered together with one aim: to be reborn.
The night began with a prophecy from Bp Randal, determining future men and women of God would come from the night vigil and that many would experience the new birth and receive the Holy Spirit.
The vigil went on to declaring the freedom of everyone present, showing them what is behind a lot of the songs that are released in this day and age. Then a series of prayers were made for different areas of their lives; family, finances, health and love life.
But all who were present can agree that the highlight of the meeting was the outpouring of the Holy Spirit. The young people gathered before the altar and sought for a new life for over an hour and many were filled with the Holy Spirit.
Not forgetting all the singing and dancing that took place, all in God's presence and the announcing of the end of season winner; the night was a great success.
For more information about the VYG, access our Victory Youth Group Facebook account.