40 Years Universal
a more abundant life, Christianity, God, Holy Spirit, is open to all, Jesus, women of faith,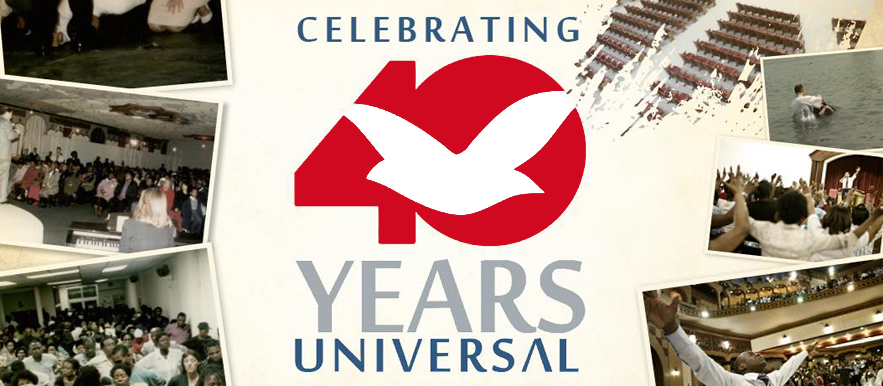 On Sunday, 9 July, the church will celebrate its 40th anniversary. It is inevitable that in reaching such a momentous milestone, we are led to look back to where it all began. One man. One faith. One God. Our memoirs read like the continuation of the book of Acts. They tell of men and women of faith who leave everything behind to go wherever God will send them; it chronicles the David-versus-Goliath-type battles to broadcast the open churches and preach the Gospel in places where they had never heard it like this. It reminds us of the sacrifices, perseverance and up-hill battle to keep our doors open.
But despite the trials and tribulations that we have faced over the years, the universal Spirit keeps us standing; it keeps us believing and urges us on because with God, nothing is impossible. The stories many people have to share are a testament to this. This is the place where your giants become small; where the dark hopeless days were injected with colour and light. This is the place where you and others were introduced to freedom, to hope, to the reality of living a more abundant life. This is where you understood the strength in forgiveness and discovered the supernatural power of your faith.
So, dear member, this is not only the anniversary of the UCKG; this is OUR anniversary and you are invited so that we may celebrate together and give thanks and honour to the Author and Finisher of our faith, the Lord Jesus Christ. Just as the church has gone from strength to strength throughout these 40 years, we will determine that your life and that of your family will also grow from strength to strength.
To celebrate this historic date, on Sunday, 9 July, we will have a special blessing for all of the members at all our UCKG HelpCentres. Without your support, the UCKG HelpCentre would not be where it is today!
Don't forget to invite your friends and family to this very special meeting! It will take place at 10am and is open to all.
Come and celebrate with us!
Event: 40 Years Universal
Day: Sunday, 9 July
Time: 10am
Location: Your local UCKG HelpCentre