UCKG HelpCentres reopen for services
back to church,
Saturday, 4 July 2020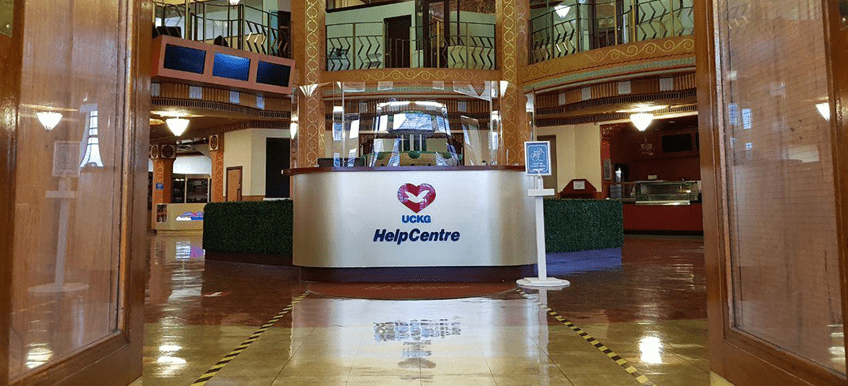 All the full time UCKG HelpCentres in England and Northern Ireland will reopen for services on Sunday 5 July, following the easing of restrictions. The Leicester HelpCentre will remain closed following the local lockdown measures imposed on the city by the government. The Cardiff HelpCentre will continue to be open for private prayer only for the time being, while the part time HelpCentres will not reopen for the present.
"We are very much looking forward to welcoming our congregations back to church," said Bishop Álvaro Lima, the UCKG HelpCentre's Bishop in Charge, "although they was and changes to various aspects of the services."
The HelpCentres were all risk assessed before they reopened for private prayers on 15 June (22 June in Wales). They are well prepared for the resumption of services with everything they need from hand gel dispensers to floor markings to aid social distancing and robust cleaning regimes. Service times vary from one location to another, but are published on the website uckg.org.
Worshippers are being asked to bring their own Bibles, to bring and wear face coverings and to use the hand gel provided at the entrance to every HelpCentre. The numbers who can attend services will vary from HelpCentre to HelpCentre, according to the capacity of the building, as people must stay two metres apart or one metre plus with mitigation measures.
Where service materials are used, these will be for single use and must be taken away by each worshipper who uses one. Shaking hands and other forms of personal contact are strictly prohibited.
The amount of singing that takes place in a UCKG service will be in accordance to the guidance issued by the government. Only one person will be singing during the service. It will either be the pastor conducting the service or a keyboard player, where available.
In the interests of protecting health and minimising risk, the UCKG is holding services twice weekly on Tuesdays and Thursdays from 8am to 9am and 5pm to 6pm for worshippers aged 70 and above, regardless of medical conditions, and the clinically vulnerable.
However, the church encourages these groups to stay at home as much as possible and is therefore continuing to provide online services. Going forward, these services will be held on just two platforms, univervideo.com and libertyradio.co.uk.
The 24-hour telephone helpline, 020 7686 6000, remains open as one of the UCKG's long term activities, and is available for anyone who wishes to talk over their problems with a pastor and receive advice and support from a Christian standpoint.
ENDS
Notes to editors
UCKG is a Christian church and registered charity that offers a range of practical support activities alongside spiritual support and comfort and welcomes all-comers. It reached the UK in 1995 and has gone from strength to strength, providing support and spreading the Christian faith. There are UCKG HelpCentre branches in England and Wales.
For further information please contact the UCKG HelpCentre Press Officer via e-mail on press@uckg.org or direct line 020 7686 6033.