There had to be more to life
Body of Christ, Chain of Prayer, Christ, God, I felt trapped, Jesus, on the streets, Prayer, Student,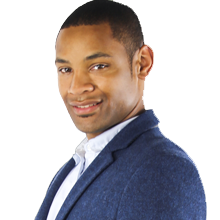 I grew up with both of my parents and had a reasonable upbringing, but the downside was that I didn't look up to my father in any way. I felt as if he didn't really show any interest in my hobbies and so I began to turn my attention to another relative, whom I felt was giving me the attention I wanted.
Seeing the things this relative had, made me want to copy him so that I could be somewhat "cool". I created friendships that were not good for me and we began doing petty things such as, robbing phones and sadly, beating random people on the streets.
I was arrested for a house robbery when I was around 14 years old. But since nothing actually progressed from it, I carried on with my mischievous ways. My reputation grew and it was known that I had been arrested, so this caused a sort of ego within me that made me want to step up my game.
As I reached my late teenage years, the only thing on my mind were girls, and if it was not on them, I would consume my time from sunset to sunrise watching pornography. At the age of 18 I found out that I was going to be a father, and knowing how immature I was, this was a frightful thought!"
Most people pull their act together when they receive news as the one above, but this didn't stop Declan or at least make him think. He got involved in a worse crime, in which he was wrongly accused of being the owner of a firearm. The penny began to drop once he realised he could face a total of 14 years in jail.
"There were too many things going on. I felt trapped and confused, and the only thing I knew would calm me down was weed. During this time I had pushed my son to the side. I became too comfortable with my lifestyle of smoking and being with my so-called friends.
It was during my trial that I first genuinely prayed, asking God to help me in this moment in need and to also help me change. Later on, my prayers were answered, as it was established that I had nothing to do with the firearm, but I was honest and pleaded guilty when it came to the theft and stolen vehicle. I was ordered to perform 150 hours of community service.
Soon after that, I stepped foot into the UCKG HelpCentre. I was invited by a friend to pray for an individual who was sentenced to prison that day. After I made the prayer I decided to stay and take part in a meeting. I left the meeting feeling relieved and decided to make a 7-week Chain of Prayer.
I learnt that I had to let go of my old mindset, forgive myself and focus on being a new me. Of course, situations arose which could have led me back to my previous lifestyle, but within me, I knew there had to be more to life than just that.
Today, I am seriously a father and a provider in my child's life. I work in a secondary school, which I truly enjoy, but above all, I am the man I never thought I could be.
Your life does not get better by wishing. It gets better when you change it! Decide to change yours now and find the guidance you need at your local HelpCentre."
Declan Varleigh