The Sunday of the Reencounter
a true relationship, It is never too late to return,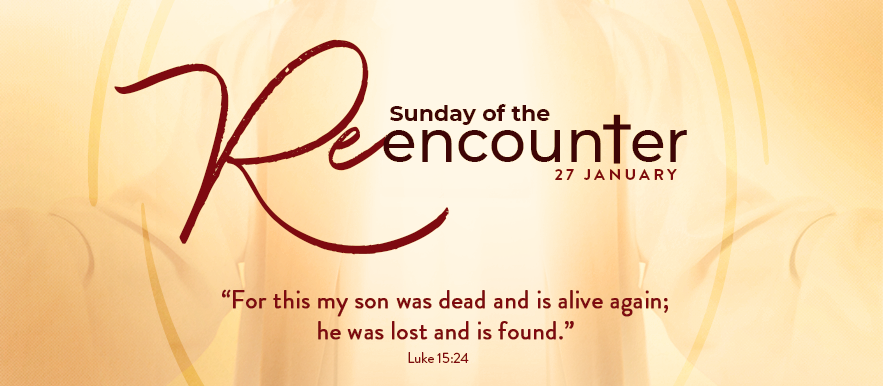 Have you ever spent long periods of time away from family and friends and you couldn't wait to see them again? Their absence from your life was so great that you found yourself thinking about them the entire time. The funny thing is, you only found out how much you actually cared for them the moment you left them behind to pursue your objectives.
If we are able to feel so attached to other people, imagine being attached to God one day, and leaving Him the next. Imagine having had a relationship with Him, but losing it due to other priorities. To leave behind a true relationship with the Author of life and love will leave a distance from Him, creating a void in the soul.
Unfortunately, many people go through this, but don't know how to return to God, or feel too embarrassed to do so. They are suffering because they now live in darkness where once they lived in the Light. They once lived a life of caring and tenderness in their Father's house and yearn for an opportunity to return. Jesus once spoke of these people in a parable concerning a young man who left his father's house in order to enjoy life on his own. He ended up having the worst experience of his life, so he decided to return to his father, though fearing he would not be accepted. But things turned out differently:
"And he arose and came to his father. But when he was still a great way off, his father saw him and had compassion, and ran and fell on his neck and kissed him. And the son said to him, 'Father, I have sinned against heaven and in your sight, and am no longer worthy to be called your son.'"But the father said to his servants, 'Bring out the best robe and put it on him, and put a ring on his hand and sandals on his feet. And bring the fatted calf here and kill it, and let us eat and be merry; for this my son was dead and is alive again; he was lost and is found." (Read Luke 15:11-32)
See how God treats those who have erred in the past but are willing to return to Him. That is why we will be having a great reunion with those who once belonged to God but, for whatever reason, allowed themselves to grow cold. If you are going through this situation, you are invited to return to the Father's house on 27 January, so that He may receive you back to rebuild your relationship with Him. It is never too late to return to Him; the longer you wait, the longer you will stay in a situation that is so easy to solve. If you know someone going through this situation share this message and bring this person with you.
Event: The Sunday of the Reencounter
Date: Sunday 27 January
Time: 10am
Location: Your local UCKG HelpCentre