The Corridor of Miracles with the 70 Disciples
a symbol of authority, Amen., Anselm of Canterbury, Bible, Christ, Christianity, depend on your faith, fed up with his life, God, Holy Spirit, Jesus, Prayer,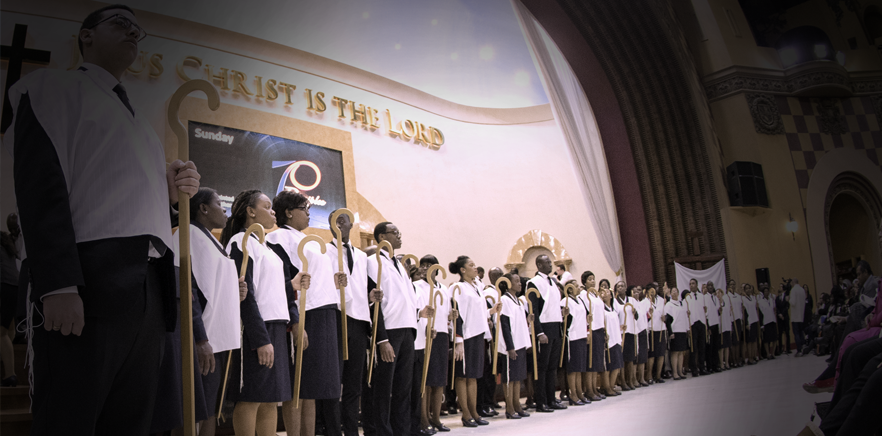 "I need help!" the man shouts. "I've been to see many people and they haven't helped me. Many Pastors have prayed for me but nothing helped.  I need deliverance! You say you can help me. Help me now!"
The unexpected outburst in an auditorium full of people sends whispers echoing through the packed hall. A distressed man hurried down the aisle, towards the altar because he was fed up with his life and was in desperate need of help.
Concerned looks were transferred from the distressed man, to the helpers who were standing along the aisle and, finally, to the Bishop on the altar. What was going to happen?
By this time, Bishop Randal came down from the altar and calmly and quietly spoke to the gentleman, "look at me" to which he said, "I'm looking at you". "Do you have faith?" asked Bishop Randal. "Yes", he replied.
Bishop Randal continued, "say, by my faith, my life has changed from now on" and the gentleman repeated every word.  At this point, the countenance on his face changed to a small smile.  Bishop continued, "Your faith has blessed you – not my faith but your faith.  Do you believe that?" "Yes", he replied. "This is it. What you need is your faith, you have to depend on your faith and use it. Do you understand? Say, 'I am blessed, I am free from now on, in the name of Jesus Christ'" Bishop concluded.
Everyone who witnessed and listened to the discourse between the two men echoed 'Amen' and clapping of praise to Jesus filled the air.
It was Sunday, 17th January. It's 3pm and, after weeks of preparation, we were finally at the Corridor of Miracles meeting with the 70 Disciples.
This was one of many special moments, which marked the beginning of the Chain of Prayer that challenges its attendees to come and see if the miracles of the past can still happen nowadays.
The legendary Rainbow Theatre was packed with people who came from the four corners of London, seeking for God's power and solutions for their lives. As this was the first meeting of its kind, no one  knew what to expect but the excitement showed that all who were there anticipated something great and the meeting did not disappoint.
Bishop Randal Brito led it, accompanied with Bishops Jean Paul and James Marques. As he determined that the power of God would begin to work in the lives of those who believed, it was evident that this was much more than just a speech but, rather, it was an inspiring affirmation, which was influenced by the Holy Spirit Himself.
As the 70 disciples, dressed with a white robe, formed the Corridor of Miracles, which stretched from the entrance of the auditorium to the front of the front row seats at the altar, the Bishops and Pastors walked through first, to consecrate it once more, and determined that great things would happen when the people walked through it.
One by one, each person came. Some brought their prayer requests; some brought pictures of their loved ones and others brought their plea in the form of prayer. Newcomers felt right at home as it was explained that all they needed was to believe, regardless of any other factor. However, the similarity of each of the 1,200 people present was their unique key to see God at work — their faith.
As a symbol of authority, each of the disciples held a golden rod in their hands. This symbol was to show that God's authority had been given to His servants, and was being used to undo the works of suffering and oppression as His Word teaches.
After the moment of prayer, each person left revived, strong and uplifted. Before concluding the meeting, Bishop Randal reminded each attendee of the secret that they had already unlocked — the same faith that they used to supplicate for God's intervention is ever present inside of them.
"None of us will ever live our lives without problems," Bishop Randal said, "but with the faith you have inside, nothing will be impossible for you," he concluded. People left wanting more!
At conclusion of the meeting, the eyes of the attendees showed appreciation as though a burden was lifted, and a new, better perspective of life had just begun. However, don't just take our word for it, come and see and experience it for yourself. After all, faith is something we all possess, so how about testing its benefits?
The Corridor of Miracles with the 70 Disciples continues this Sunday at 3pm at the Rainbow Theatre, 232 Seven Sisters Road, N4 3NX.
Be our special guest!
For more information on the meeting or if you would like to speak to someone, call 020 7686 6000 today.