Rebuilding myself from the inside out
give God a chance, letting him down, my love life, Rebuilding myself from the inside out,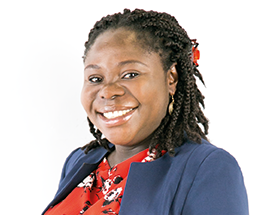 'I was in a relationship that started out well but somewhere along the line it turned into an abusive one. By then, we had a child together. I remember seeing my then two-year-old son screaming and covering his ears during one of our heated arguments. Seeing my baby like that broke my heart. I felt like I was letting him down. I didn't want my son growing up in an abusive home, seeing me sad all the time. That's where I found the strength to end that relationship
I was invited to the UCKG by my sister for the first time in 2011. When I first arrived, I felt different and at peace, so I continued to attend. I started to learn about using my faith to conquer what I wanted, and I discovered that I could attend various meetings that focused on different areas of my life.
One of these meetings was the Love Therapy, which I started to attend. This is where I learnt to get smart about my love life. First, I needed to identify where I was going wrong and then heal from my past—the prayers really helped me with this—, then I started focusing on rebuilding myself from the inside out.
I decided to trust my love life in God's hands. I was so focused on transforming my life that the anxiety I felt about my love life left. Funnily enough, it was then that I met my husband.
I knew straight away what to look for in his character, just as I had learnt at the Love Therapy meetings. He ticked all the boxes; we had the same goals in life and complemented each other nicely. We tied the knot two years after meeting and recently we just had our second child, a beautiful baby girl.
My advice to anyone feeling like I was is that you don't have to accept your situation. You can find true love, but you need to put your feelings aside and give God a chance. The other condition is that you must believe that it's possible and persevere without doubting. It might take some time, but it will eventually change.'
Alecia Sainte-Catherine