Finding the right person
Role model, the HelpCentre, The Word of God,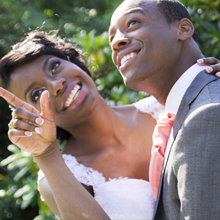 Miguel: My love life was heading  down the wrong direction before I came to the UCKG HelpCentre. I didn't have a role model. As a result, I was sleeping around with many women. Although I told myself I would never be like my father, indirectly, that's what I became. I couldn't run away from it. My older cousins even made relationships seem as if they were not worth entering.
However, the word of God and the representations of couples at the HelpCentre helped me change my perceptions. The couples looked truly in love, happy, and blessed. I wanted what they had. I met my wife Chantel from a friend at the HelpCentre. I then invited her to come to the services, and we grew in faith.
Currently, we feel blessed and we are growing in love every day.
Chantel: I was filled with an empty void before finding the HelpCentre. I wanted to find something to fill this emptiness inside me, so I started engaging in different relationships, hoping that would work. But nothing was making me feel complete. As we grew in faith, my void was filled by the joy and inner peace I received.
Today, I'm very happy, and I feel complete. Miguel and I are happily married.
Miguel and Chantel Beia